Mr. DeFranco Retires Leaving a Legacy Behind
Mr. DeFranco has been a part of the Wakefield family for 30 years. He's taught in both Wakefield buildings, mentored thousands of kids, and coached hundreds more. He announced his retirement on May 4th at 1 AM through an email to all the staff to let them know, then hopped in the car and drove to Massachusetts to watch his daughter pitch in a playoff softball game. We will miss him dearly.
Mr. DeFranco has been the glue that holds Wakefield together. He used to have a picture of Cal Ripken in his room. Veteran Math teacher, Dr. Wiersma said, "lately, I have been thinking that Mr. DeFranco really is the Cal Ripken of Wakefield High School. For 31 years, he came to work to do the best job that he could do and to strive to do better. He never really asked for lots of attention, he just wanted to do a good job for the students and prepare them for their next steps." Thanks to his selfless guidance, a lot of students are better off.
Mr. DeFranco has made a family here, both figuratively and literally. He met his wife here! Mrs. DeFranco was a Health & PE teacher and Athletic Trainer at the time. She said, "some of our Wakefield colleagues tried to fix us up however I was always busy with practices and games and couldn't attend many after-school social functions.  I asked him out first…None of the students knew until we got engaged." They both loved softball and working with kids. Both of their kids also went through Wakefield as well; JP was class of 2014 and Marisa was class of 2016.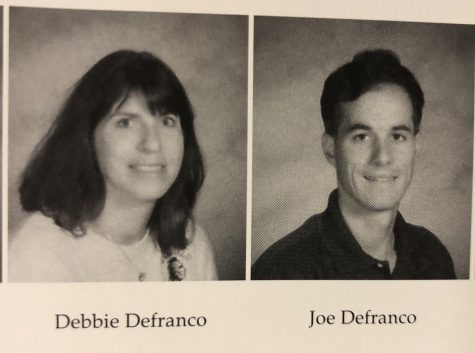 Anyone who knows him knows he and Dr. Wiersma share a classroom and they are work spouses. Dr. Wiersma said, "unlike a real marriage, our work marriage happened really slowly over many years. I think it helps that he matched me up with his best friend and I married that guy. That extension of our work life helped us realize how well we worked together. I don't think we ever had any major disagreements since he became department chair in 2005. Since then, we just started relying on each other more and more for advice and perspective."  They are a great teaching pair, and their room will feel a little empty with only one-person next year.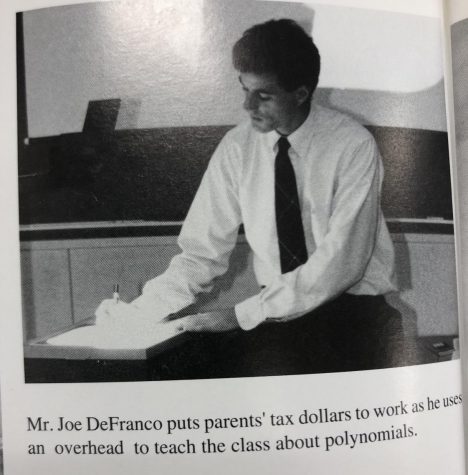 Mr. DeFranco taught hundreds of people, including a few currents staff members. "I remember Michelle Robinson in my Algebra 2 class and Becky Kigin playing centerfield on the Wakefield softball team that I coached." He said, "Mrs. Robinson was a friendly student and worked hard. Ms. Kigin was in the early stages of learning how to be goofy." They are still friends today, in fact, Mrs. DeFranco hired Ms. Kigin before she left Wakefield!
Ms. Kigin remembers Coach Defranco (or as she called him, "Yoooo Jooooooeeeee") as "very patient. He would tell jokes, and I don't know if we were his first time coaching girls because he was very patient, but I could tell when we got a little bit too raucous or annoying and he never really got pissed off but I could tell. But he taught us a lot of fundamentals and we were very lucky to have a good pitcher. We did pretty well." Coach DeFranco has left a legacy both on the field and in the classroom.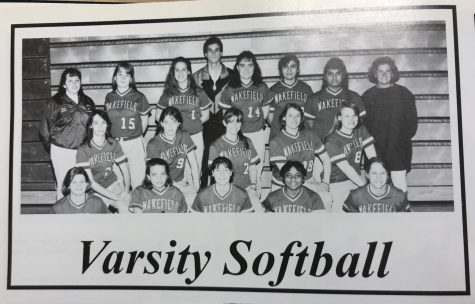 Mr. DeFranco has done so much for the softball culture in Arlington. He coached the softball team at Wakefield and trained umpires in his free time. Sometimes, those worlds collided. "One of my favorite memories as a coach is when I approached an umpire to question his call. It was always interesting talking with umpires because I am a member of the same association and would train the umpires in the off-season. An umpire once replied to my question as, 'Joe, you taught me to call it this way…' I knew I had lost the argument since I couldn't argue with myself."
His daughter, and Wakefield Alumni, Marisa DeFranco, played softball while she was here and has continued to play in college. She said, "my dad has been my softball coach since before I joined a team, he's been with me every throw and hit of the way! I couldn't thank him enough for that. Having him coach me in high school was a dream come true. Now that he's retiring I get to see him cheering me on still as I keep playing softball at Emerson College in Boston."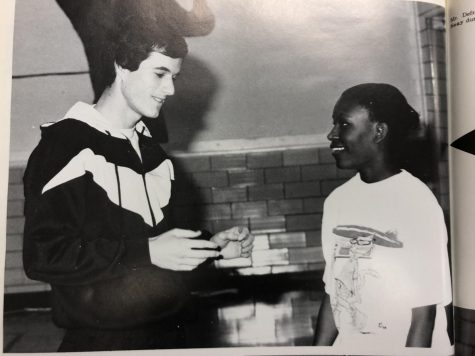 The day he announced his retirement, Mr. DeFranco drove to Massachusetts to see Marisa pitch in a playoff game. No one knew he was coming. When he got to the field, "Marisa saw Joe during warm-ups and cried with joy" said Mrs. DeFranco. This is one of the reasons he is retiring, to be there with his family.
One very distinct memory Mr. DeFranco has from the old building is September 11th, 2001. "This was before cell phones were common and even if you had a cell phone, it did not access the internet. Students returned from the Career Center and before 3rd period they spoke of a plane crashing into one of the Twin Towers. During 3rd period, we turned on the TV and witnessed the tragedy that was 9/11." Mr. DeFranco was one of the teachers who intercepted parents when they came to the school to check on their kids. "During 4th period and lunch, I stood by one of the entrances of the school and directed emotionally drained parents to the attendance office so they could reunite with their children. Some parents had come from the Pentagon (where one of the planes had hit) and broke into tears and into my arms when they finally made it to the entrance of the school." It's easy to say, that will be a moment that Mr. DeFranco will remember forever.
So with all the memories, he accumulated in the old building, he was sad to see it go. "It definitely had a personality I knew I would miss…moving into the new building was not as difficult as I thought. The new building is so bright and beautiful that it was an easy transition."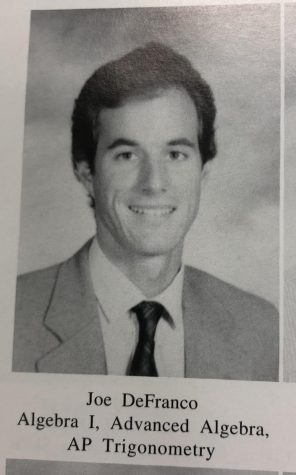 Mr. DeFranco had this to say of his announcement, "I'm retiring because I can. Not many people have the same job right out of graduate school for 31 years. Arlington has a good retirement plan so I'm going to take advantage of it. I hope to do more spontaneous adventures in my retirement."
Wakefield wishes you a relaxing retirement with endless spontaneous adventures, Mr. DeFranco! You will always be a member of #WarriorNation!
Leave a Comment
About the Contributor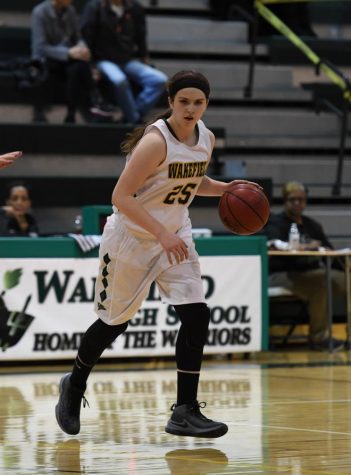 Hannah Foley '19, Staff Writer
Hi, my name is Hannah. I am a senior and this is my second year as a staff writer on The Chieftain. I'm also the captain of the basketball team and a student...