Boys Soccer Makes History: First Run at States
Our Boys Soccer team is making history. For the first time our Varsity Boys are competing at States. The team has gone through a lot of adversity this season. Many people said they wouldn't even make it past the first conference play off game. It seems that our boys and coaches have finally cracked the code. Our boys have heated up this play off season and won three straight elimination games to stay in the playoffs. This season has been a journey to say the least for both players, coaches, and fans.
The team went 3-11 in regular season play, getting only the 7th seed in the district tournament. The beginning of the season was an obstacle with a 3-11 record to start. Throughout the entire season, the line-up continued to change after each game. Senior and captain Ricardo Saldago talked about the early struggles of the team and what kept them going, "Coach kept telling us that we were better than all the teams, There isn't a team that is better than us… every game he told us if we gave him our all, then we will play another game."
Our boys finished second to last in the conference and had to played number two seed Marshall in the first round of the playoffs. Senior Daniel Habtom talked about how the coaches inspired the team before the big game, "We aren't even supposed to be here. Let's play this game and win." The team facing elimination knocked off Marshall in penalties at home after a thunderstorm delay to keep their season alive with a big performance from freshman goalie Alex Temoshok. When we interviewed the players, the whole team talked about Alex; "when Alex joined, that was our turning point, and it was because of him that we made it to Regionals."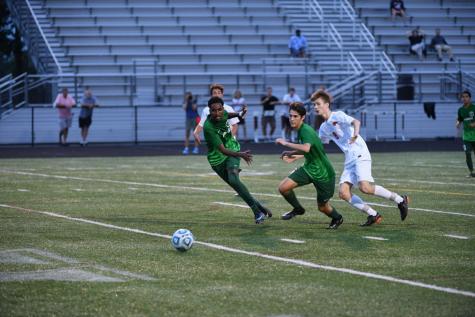 This team has been doubted the whole season and has proved a lot of people wrong. Junior Bryan Moreno talked about being the underdog in the playoffs, "There was no pressure because we had nothing to lose." The team believes that if they can play their game the way they have been this playoff season, they will be able to make a deep run in States.
As the team left the interview, they all said, "We aren't done yet."
UPDATE as of June 5th:
And they weren't done. Our boys competed hard in their 2-1 loss to Albemarle yesterday. This is a tremendous achievement for our boys in our first State playoff game ever for the soccer team. They playing a great game against the undefeated number one team in the State and the number 12 in the country.  They looked like they belonged on that field. Congratulate our boys on a fantastic game and stupendous season!