Six Things You Probably Haven't Tried and Need to This Summer
Summer is here! Whether you plan on spending your days by the poolside, or staying inside watching Netflix, this is the time to really learn something new, to try new things. The Chieftain staff shares SIX things you probably haven't tried and are fun to learn this summer.
Bachata
According to www.heritageinstitute.com, The Bachata is a dance from the Dominican Republic in the Caribbean islands. Both the music and the dance have been influenced by Cuban Bolero, the Merengue (also of Dominican Republic origin), Salsa and Cumbia. In Bachata dancing, the dancer takes three steps to four beats of music. As with Salsa, the step timing is three steps and then a one-beat pause. The timing if called out sounds like "one, two, three, uh; one, two, three, uh." Basically, three steps in one direction (side-close-side-tap) and the same pattern in the other direction. Experienced dancers add a lift or hip motion on the tap step.
The most important thing is to get on the dance floor and have fun. Watch Ezra and Elena try to learn Bachata:
Donut Chomp
Make any time you are with friends a party. Get some donuts and tie them to a rod. Then see who can chomptheir donut off the string first. It makes a good time, party time. Watch the Broadcast students try to Donut Chomp:
Juggling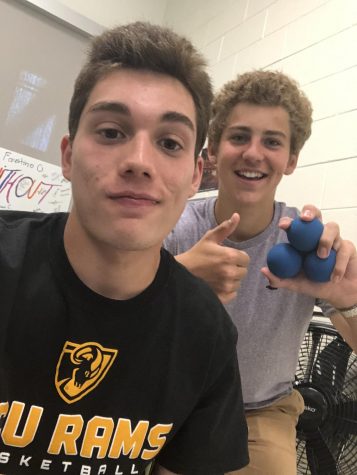 Step 1: The first step in your juggling journey is choosing the right balls to use. Use bean bags if you are a complete beginner because you don't want balls that will bounce away when dropped.
Step 2: Choose a suitable area. Find somewhere with a lot of open space and a high ceiling. Don't juggle near anything valuable; you will regret it, trust me.
Step 3: Toss one ball for awhile to get used to it. Just go back and forth from one hand to the other tossing the ball just above eye level and keeping your elbows close to your body.
Step 4: Practice the scooping routine. This is the technique that makes juggling smooth, simply scoop or dip your hand when tossing the ball. The ball should almost be moving in a figure "8". Practice this scooping the ball from one hand to the other and not letting the ball reach higher than eye level.
Step 5: Hold one ball in each hand. Toss the first ball up, once it reaches its arc, toss the second ball and catch the first one. Practice this exchange until it becomes comfortable.
Step 6: Now add the third ball. Hold two balls in your dominant hand, and the last ball in your other hand. Try to make three passes in a row. Start out slow, simply tossing the balls and figuring out the rotation and how they work together. For the majority of the time juggling three balls, one ball will be in the air while both of your hands are holding one. Try tossing the balls higher than normal to get the smooth rotation down before moving on to juggling at eye level with three.
Step 7: Now repeat each step until you are comfortable with each motion. After you've got every step down, you will still make mistakes, just keep practicing and it will become natural!
Tropickle
Summer is the time to try new foods. Everyone is talking about making Kool-Aid pickles, but you don't need to make them. Wal-mart sells TRO-pickles (fruit punch flavored pickles) and they are good. Watch AJ, Gilmer, and Rabia try them for the first time:
Frisbee
This sport is fun! Watch this video with Robbie and John to master the two main ways to throw a Frisbee:
Now that you know how to throw a frisbee, there are many games you can play with a frisbee. A basic game is to throw a frisbee around with 2 or 3 other people. Whoever drops the frisbee gets a letter (T-I-P-S), and whoever spells the word TIPS first loses. Another game is like football, but inside of a pool. You have a team of 3-4 people  and you need a quarterback (the one who throws) and the receivers (the ones who catch it). You need to drive down the opposite side of the pool and then try to defend the other team trying to score. Another game to play is Frisbee tag; the rules are simple: if the frisbee touches you, tag you're it! Play at beaches, parks, or outside your home.
Scare Someone
Summer is awesome. It can get a little boring, though. Spice it up by scaring someone. Make sure you do it safely. You want to scare them for a few seconds, not injure them forever.
AJ, Pinto, Farhan, and Rabia show you how to do it right:
Wakefield, right now summer seems endless. You will be back in school on September 4th. Make the most of the time you have with friends.
Leave a Comment