Wakefield Wins County Golf Championship for First Time in School History
"When Peter hit his wedge shot to a foot from the hole in the [one hole sudden death] playoff, I knew there was an extreme likelihood that we had just made school history" said Coach Chauvenet. The Wakefield Golf Team won the Arlington County Championship on Wednesday, August 29th. Coach Chauvenet was still holding the trophy this morning, and he didn't seem to want to let it go. He even held it in the staff photo.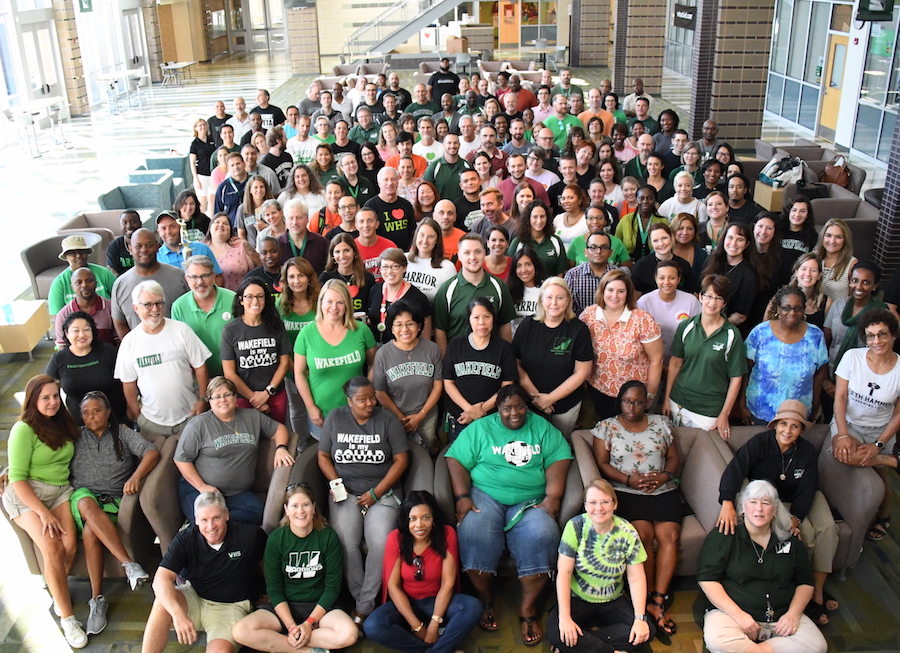 Yorktown has won the County championship evey year since 1987. (There was no County Championship from 1990-1999.) Yorktown has won for 21 years. "My first year coaching, in 2012, we lost by 54 points. We have just been chipping away at it. Two years ago, we lost by one shot" said Coach Chauvenet.
The team has two great coaches. Coach Greenfield has a lot to celebrate today. It is his birthday. What a present. Winning the Arlington County Championship has been a dream for all of the years he has been coaching the golf team.
How did the team do it? This year there was an influx of talent from the Class of 2022. Freshman Esteban Knorr made the winning shot. Esteban said of that shot, "there were some nerves, but it was very gratifying to  break the losing streak." How did he stay so calm in the moment? "I have been playing golf since I was 2 years old. I play every day. We have been practicing all day in the month of August. Our hard work paid off." Indeed it did, Esteban. Sophomore Guillermo Garcia agreed with Esteban; "we have a strong top 5…the incoming freshmen helped a lot." Freshman Andrew Burd added, "It is really fun playing every day with this team. I am improving a lot."
Sophomore Anne Kumashiro said this of the championship, "We won the main match and won the 'B' Match. We dominated." She is the only female on this team. How does that factor in to the game? "I bring a calm vibe to the team. It is like being a sister in a big family…these are my brothers."
Being part of a family and consistent coaching seem to be what broke the losing streak. Senior Eli Sampson is "satisfied that we finally won." He was on the team two years ago when they lost by one point. Sophomore Will McCarter let us know that it is more than a match, there are some life lessons to be learned while playing; "golf has taught me to focus on myself and not how other people judge me." That is a great life lesson, Will.
What does the future hold for this history making team? Eli said, "we have a really solid team this year. The Conference 13 Championship is our next big goal." Coach Chauvenet added, "We are 5-0 right now. We play Edison Marshall and TJ next. We are taking big strides. We are going to try to win Conference and qualify for States. We are going to keep pushing forward and growing as a program."
All of the players said that the best way to cheer them on is to follow, retweet, and like their tweets @VarsityGolfWHS. Congratulations to the players and coaches on this monumental victory.
View Comments (1)