New Dress Code: Wakefield is Listening
We hear stories about ridiculous dress codes that embarrass students across the country. Now, Wakefield won't have to worry about being in the headlines. There have been changes to a lot of policies this year, and the dress code is one of them.
Junior Isabel Bernard said, "its okay to have things you can't wear in school, but it's not okay to unfairly police what girls are wearing." Wakefield is listening to student concerns and improving its dress code policies as a result.
Since it is the beginning of the year, it can seem like all the rules have changed. We have new administrators, new Warriors' Period guidelines, and even a completely new attendance policy. Some of them have been hard to get used to, but not the dress code policy. While many schools across the country tend to focus on what students can't wear to school, Wakefield is addressing the topic from a different angle. Dr. Wilmore said, "we want to focus more on what is appropriate for school as opposed to what's not."  Wakefield is still a high school, and administrators want to make sure we maintain a focused learning environment. Administrators hope to remain objective, fair, and reflective of a school with hope. They want to remove some of the negative connotations that come with the dress code.
Administrators have several goals they work towards each time the dress code is updated. Dr. Wilmore said, "to be more objective as opposed to subjective because there are a number of complaints and concerns that the dress code is not applied fairly." They want to keep in mind concerns people have brought to their attention such as unfairly targeting females or discriminating against body types. Junior Mackenzie Reid-Smith said, "You should be able to wear what you wanna wear if you feel comfortable in it."
Being told what to wear is always going to be followed by strong opinions. Wakefield is open to hearing them; Dr. Wilmore said, "as we continue to look at the dress code and how students are responding to it, if there are concerns, the administrative team and I are open for conversations."
Students, we are being heard. We should remain cautiously optimistic about the changes being made. The updated dress code can be found on Canvas in the coming weeks.
Leave a Comment
About the Contributor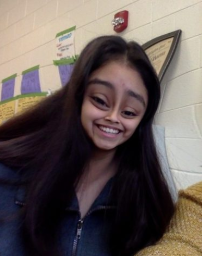 Alejandra Galdo Hernandez '20, Co Editor-in-Chief
Hi I'm Alejandra! I'm a senior and this is my third year writing for The Chieftain. Some of my interests include reading, plants, and my kitties. I'm very...