Just Do It?
Some people are outraged by Nike's new "Dream Crazy" campaign featuring an ad narrated by Colin Kaepernick. The controversial commercial took to social media on September 5th, and aired during the NFL opener the next day. Social media has been ablaze with responses. Videos of people burning their Nike apparel and cutting off Nike's famous swoosh logo compete with memes applauding the message.
The controversy surrounding Kaepernick began when the former 49ers player first sat, and then began to kneel, during the national anthem in 2016 in protest of police brutality and other issues of racial inequality. As Kaepernick explained in an interview with NFL Media in 2016, he did not feel that he could "show pride in a flag for a country that oppresses black people and people of color." Some took this protest to be an insult to veterans, the pledge, and the armed forces. Kaepernick has not played in the NFL for the past two years as a result.
The ad, featuring other famous athletes such as Serena Williams and LeBron James, steers clear of direct controversy by never actually showing Kaepernick kneeling; instead focusing on their inspirational message to "dream crazy". Other athletes who have overcome obstacles such as disability, refugee status, and more are featured in the ad, as well, drawing attention to other social issues.
A week ago, President Trump took to Twitter to give his opinion on the campaign; "Just like the NFL, whose ratings have gone WAY DOWN, Nike is getting absolutely killed with anger and boycotts." Nike is set to remain the sole provider of official NFL apparel until 2028, and their online sales have risen by 31% since the ad came out. 
At Flushing Meadows on Tuesday, Serena Williams said, "Having a huge company back him…could be a controversial reason for this company, but they're not afraid. I feel like that was a really powerful statement to a lot of other companies."
Even our own Wakefield community has strong feelings on the issue. Senior Yasmine Humoud said, "I thought the commercial was just and appropriate, and if anyone wants to burn their shoes they should send them my way." Senior Zach Saltos says, "I don't have too much of a problem with Nike using Kaepernick, though I don't agree with Kaepernick's views and the whole protest." Senior Ezra Assafe said, "I don't agree with the kneeling, but he is free to do what he likes. It comes with consequences. Nike, as a business, it wasn't a good move. It is such a touchy subject and splits the country in half. But I guess, they are free to do what they like as well."
One thing is for sure, this campaign has made an impact that reaches far beyond the world of advertising.
About the Contributor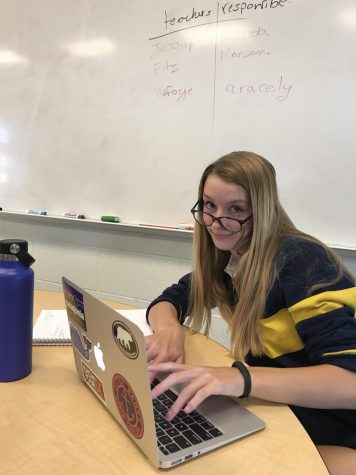 Grace Jones '19, Staff Writer
Hi, I'm Grace! This is my first year on the Chieftain and I'm a senior. I like to play soccer, walk my dog, and eat chimichangas. I like writing about...