Cheerleaders Stunt All Season Long
Cheerleading season is in full swing, and the Wakefield cheerleaders have started strong. At Wakefield, we have a fantastic cheerleading team. They have a lot of heart and talent; you need both to be a cheerleader.
Junior Robin Stevens said, "cheerleading can be dangerous if you don't focus, and Wakefield cheerleaders are focused." They are indeed. The cheerleaders practice every day for two hours. Their season is long, longer than any other sport. It starts August 1st and ends after Basketball playoffs…as late as May depending on how the teams do. Jason said, "cheerleading can be competitive…[we want] to be the best we can be. Competitions take a lot of energy and muscle."
Cheer can be a natural born talent, but it also takes time to advance. Our cheerleaders learn their stunts in different ways. For example, junior Jason McPhee started to do flips in Taekwando and only improved after joining cheer. Cheer requires lots of strength for the many difficult routines. Jason said, "it's a lot harder than it seems."
During pep rallies they work hard to raise school spirit from the Wakefield community. Senior and Varsity cheerleader Haley Kerby said,"I hope that we can get all the students sections involved because we need more school spirit, and that's always our number one job as cheerleaders. The hardest part of being a cheerleader is actually getting people involved."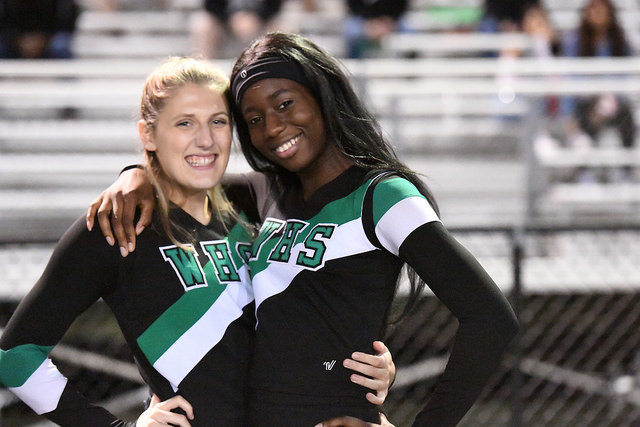 Cheerleaders raise spirits, not only in the crowd, but also on the field. The cheerleaders have to have a lot of trust in each other, especially when throwing each other up in the air! Junior Varsity cheerleader Trunya Joaquin said her favorite part is, "the bond as a family and the fun memories" that they have together. She is also looking forward to progressing with the team.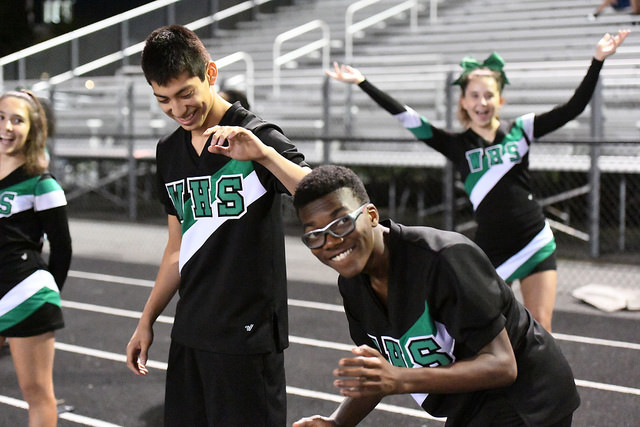 We have two males on the team in this female dominated sport. Junior Jason McPhee and senior Erik Veliz were friends before joining the team; they actually started cheer because of each other! Erik had no intention to cheer, but Jason was telling people Erik could flip, so he brought Erik to show them. Junior Robin Stevens said, "I joined cheer when my brother was a football player and I wanted to cheer him on when he played. I also wanted to inspire others."
On September 29, the Wakefield cheerleaders, both varsity and junior varsity, went to Stonebridge High School to compete against other high schools. Haley said, "I'm looking forward to making it to regionals. Our routine is really good this year, we hit at our first competition with only one deduction." The varsity team placed in 5th place and the junior varsity placed in 4th place.
You need to be at the pep rally on Homecoming Day, Friday October 19th. Wear your class colors and join the cheerleaders in rooting for your class!
Leave a Comment