The Browns Finally Won!
A shock around the league was felt as the Cleveland Browns beat the New York Jets 21-17 on Thursday, and left many football fans stunned after what they had witnessed.
The Cleveland Browns finally won a game after a heartbreaking 635-day winless streak for the team and supporters. Many people feel as if this is primarily a quarterback issue, with QB Tyrod Taylor taking most of the blame, and newly-drafted Baker Mayfield taking the spotlight after he entered the third quarter and led the Browns to an 18-point comeback; completing 17 of 23 passes made during his turn in the game.
When questioned about whether the starting Quarterback role would be given to Mayfield, Head Coach Hue Jackson said, "I think today I am giving you guys the choice that was made… It is what it is. I am not surprised by what he did in the game. I think a lot of other people are. I do not think that his teammates are. I do not think that the coaches are. I think that we knew, once he got his opportunity, he would go in there and nail it. That is what he did."
While Jackson initially wanted Mayfield to have enough time to develop to league standard, it seems as if he will be taking the starting role earlier than planned. "It is nice to get reps and to slowly build that timing and chemistry" said Mayfield, "I am happy with how I played without any reps. Right now, I have very, very high expectations for myself, having a full week of practice of being able to get those reps with the offense. We should be in-tune by Sunday."
While many fans have lost hope in the team, one Warrior has stood tall through all 635 days. That man is our Principal, Dr. Willmore.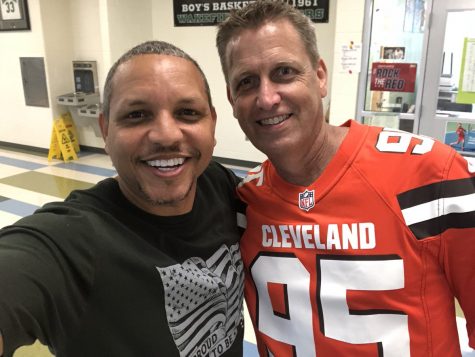 Wakefield Basketball Coach Tony Bentley posed with Principal Willmore last Friday for Twitter. Coach Bentley is, "happy for our Principal…he wears his Browns jersey once a year (beginning of the season)…this season he has worn his jersey twice already…Go Browns!" Go Cleveland!
"I see a Super Bowl in the future" our Principal said when asked.
The Browns face the Oakland Raiders this Sunday, September 30th at 4:05pm on Fox Sports. We will see if Mayfield and the Browns can live up to the hype.