Spamalot Is A Smashing Success
Spamalot was by far one of Wakefield's biggest successes this year, selling over 375 tickets in just the first two nights. "I honestly feel like it went much better than expected…I thought we weren't going to be prepared but we really were. The audience helped our performance become really strong." said Usman Ishak (Sir Galahad).
One of the most hilarious performances of the night involved Not Dead Fred. Senior Alex MacCallum played this role and said, "It was really fun. In the three years I have been in Theatre, it is the best show that Wakefield has done. There were no weak links."
The cast and crew work very hard every year to draw the audience in, this year was no different. One of the most recognized tactics to draw in the audience was the use of seat A101 as a hiding place for the grail. Cast members brought the lucky person whose seat was A101 from the audience to the stage for a quick song and dance routine each night. It was an unexpected twist that the crowd loved.
"They got the audience really involved. It seemed like the whole auditorium was laughing!" said former student, and brother of one of the actors, Sean Hackes.
Wakefield students loved the play and some even went multiple times. "I've decided to come both Friday nights because it is just so exciting I can't stay away" said Sophomore Daniel Hernandez.
Former Wakefield thespians were also in awe, "The play was really funny and it was really good to see all my friends perform. I have to say it was a little weird for me to watch because this was the first Wakefield production that I have not been in." said Senior Will Westray.
The crew members spent countless hours working on backdrops; they individually painted each rock and clipped on hundreds of leaves to the forest trees. Students were not only astonished by the backgrounds but also by the cast's musical ability. The cast labored for months after school, on weekends, and even on holidays to try to learn every step and memorize every song. "I thought it was fantastic! The acting and the singing really blew me away. I know I wouldn't be able to do that" said sophomore Anise Dorsey.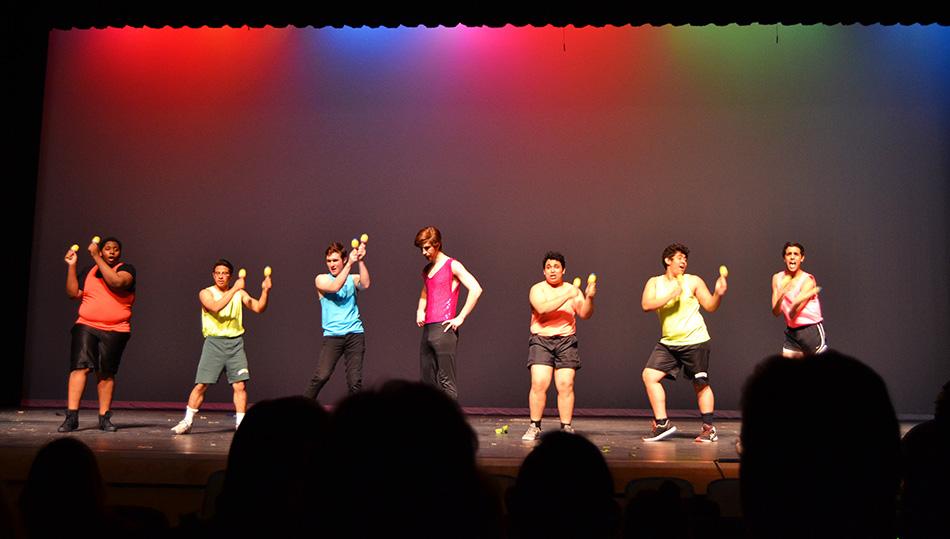 The quick scene changes were done with ease, and the audience roared at every joke made. These warriors devoted so much time both in and out of school to make this production perfect; they succeeded.
Spamalot is truly a Wakefield Gem.