JV Boys Lacrosse Has First Win. BONUS! It Is Against A Cross Town Rival.
The Wakefield JV Boys lacrosse team beat rival Washington-Lee High School in North Arlington on a balmy Friday night in May. Wakefield's win is the first win in the JV program's short existence.
The boys won 4-3 on an exciting goal in the last 10 minutes of the game by junior midfielder Jamal Zaggout; "It felt great to finally win a game this year" said Zaggout.
Sophomore long stick midfielder Christopher Robertson ended the game with assists on three of the four goals, including an assist on the game winner. When asked about the win Chris said, "The team played really well together and the key part to our win was possessing the ball on offense and successful fast breaks."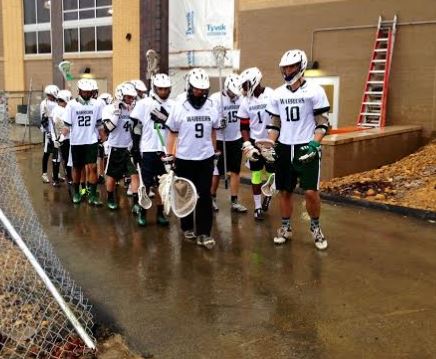 Sophomore defenseman William Ramirez said, "It was awesome to be a part of the team who stopped the losing streak." He later went on to say "the last 20 seconds of the game were the most intense…the Generals had the ball. They shot the ball at the goal and my heart stopped. Everything seemed to move in slow motion. When the goalie [sophomore Yousef Errami] stopped the ball [at the goal], everything sped up. After we won, we dog piled in celebration."
The team was full of pure emotion after the win, but of course the game ended with a handshake line as custom in lacrosse.
This win was a needed boost. With returning players, Wakefield should expect great victories from the lacrosse team in the next few years.