Who is Sheck Wes, and Where Did He Come from?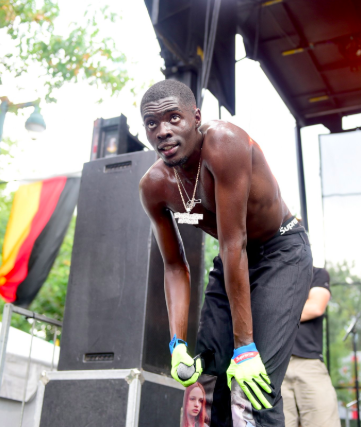 The current state of hip-hop is pretty standard. A formation of catchy bass-heavy beats with a rapper who brings tons of energy. Rapper and Producer Sheck Wes (born Khadimou Fall) is a game changer when it comes to rap.
Based in his hometown of Harlem, he's already getting co-signs from the likes of Travis Scott and Kanye West. While attending high school, one of his most fond hobbies became basketball, which is a reoccurring theme in his music. Later, while attending a playoff game, he found himself skipping it to go to Madison Square Garden to attend the Yeezy Season 3 collection. However, he decided fashion wasn't for him, so he refocused on a trip to Senegal to decide what he wanted to do with his life.
After some thinking, Sheck decided to focus on music. He started putting out singles in 2017, most notably the track Mo Bamba. He named the track after Orlando Magic player Mohamad Bamba, who was drafted this year, and is by far one of the NBA's fastest rookies in history.
The track gained tens of millions of streams for its infectious beat & notable hooks. By far being one of the hottest singles of the past two years. Sheck is already opening for Travis on his Astroworld US Tour and taking the crowd by storm.
His next singles include the likes of Live Sheck Wes & Chippi Chippi. His new album MUDBOY is a versatile and psychedelic venture into the mind of Sheck Wes. He's already become one of Hip-Hop's greatest underdogs of 2018. You can stream MUDBOY on Spotify and Apple Music now.