Start Now: Haunted Trails and Attractions You Don't Want to Miss
'Tis the season to be spooky! Halloween is right around the corner and you already know what that means! Haunted hayrides, haunted houses, haunted trails, haunted asylums are all here. I want to make sure you get the most bangin deal worth every buck you spent on admission tickets.
Here are the top 3 frighteningly good Halloween deals.
At number 1 we have The Fields of Scream Maryland (Olney Laytonsville Rd, Olney, MD) our good ol friend " Groupon" has our backs with the discounts. For only fifty five bucks you can enjoy all the thrills the Fields of scream has to offer from all new haunted trails to the trail of terror, haunted hayride, slaughter factory,f ast pass and concession credit. That's what I call a deal!
Up next at number 2 we have the famous Cox farms located in Centreville, VA with their night event "Fields of Fear". Open Friday and Saturday night from September 21 through November 3. Dare to get chased by a monster with a chainsaw, or walk more than half a mile in the dark woods if you dare, Cox farms has you covered. Enjoy their Fear Deluxe tickets including admission to the Firegrounds, one Dark Side Hayride, one entry to Cornightmare, and one entry to The Forest:Back 40. Price ranges around $15-35 depending on the date. 
Number 3 we have Cornstalkers in Waldorf, MD. Deep history lies within these fields of horror. The story goers that the cornfields and farm land were owned by a Mr. Graves in the early 1930's. Mr.Graves lost his whole family on this very farm and then set his home on fire while being inside. His body was never found; locals today can still hear his cries. Come through and take a look. For only 14 dollars you can go through the spooky haunted trails of horror and escape room. Begins October 13th-28th, not bad for the price! Will you be able to escape..?
Stay safe and have a Happy Halloween! 
Leave a Comment
About the Writer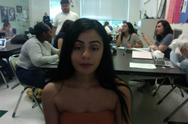 Kimberli Tellez '20, Staff Writer
My name is Kimberli Tellez. I'm eighteen years old and I enjoy fashion and all the latest trends. I love to go shopping and spent time with my friends....