History Already Being Made in the ISU Grand Prix Series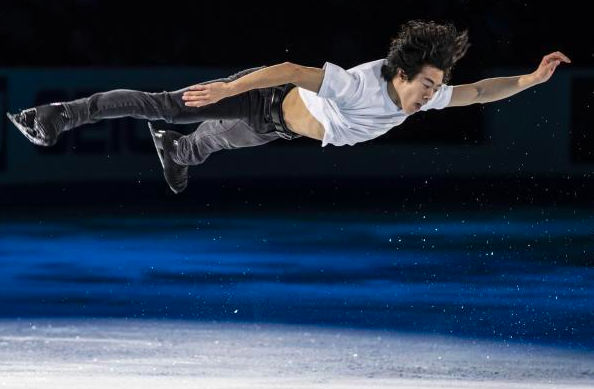 The time of year has finally come for one of figure skating's biggest international competition series: the ISU Grand Prix of Figure Skating. This competition will be a time for skaters to either redeem themselves or reaffirm their position since the PyeongChang 2018 Winter Olympics. While we've only just started, history was already made last Saturday at Skate America.
Probably the most anticipated routine was that of Nathan Chen, the first skater to ever land six quads at the Olympics (which you can watch here), proving his deserved title of the "quad king". Chen was the skater with the highest expectations placed on him during the last Winter Olympics, which unfortunately he was not able to meet; only placing 5th overall. This past Saturday, Chen won Skate America in the mens division by the largest margin in history, with a 41.06 point differential. Even more incredible, Chen presented a transformed version of himself since the Olympics. Though he won with 280.57 points, he didn't necessarily do it by having a performance packed with quads (only had 4 set quads in routine), but instead he focused more on the artistry of his performance. You can watch his beautiful free skate here.
Chen wasn't the only U.S. skater who made it onto the podium. When it came to ice dancing, the U.S. skating pair Madison Hubbel and Zachary Donohue, whose free dance you can watch here, placed first with a total of 200.82 points. Though this is their first time standing at the top of the podium, it's the 10th time in a row that a U.S. team has placed first at Skate America in the ice dancing category. While the U.S. pair team didn't place first, they made it onto the podium in third place.
When it comes to the Women's division, Bradie Tennell is the only U.S. female Olympic skater who is participating in the Grand Prix, and she almost made it onto the podium, placing fourth (you can watch her free skate here). This came as a shock to everyone since Tennell just beat Russian olympic silver-medalist, Yevegenia Medvedeva, at a low level event before Skate America.
While Skate America is only the first event of the Grand Prix Series, it has already broken records and beat expectations. If this is any indication to how the rest of the series will play out, this will be one of the most memorable in history. Next stop is Laval, QC Canada this weekend and events every weekend until December 9th. Check here for updates.