An Open Letter to Our Future Pep Rallying Selves
As everyone knows, the pep rally is a huge part of what makes up Homecoming week, and one of everyone's favorite weeks of the year. Every year, I get very excited to dress up for spirit week. I look forward to competing against the other grades at the pep rally. This was my third pep rally at Wakefield. This was the first year that I was very disappointed with how it went.
Being a high school student, we only have 4 homecoming weeks, 4 pep rallies, and only 4 chances to win the spirit stick for our grade. There is only 1 day in the school year where we can yell as loud as we want (and not get in trouble for it). Putting people to blame is not what I, or anyone who is upset about the pep rally, are trying to do. But it needs to be addressed how the rally was rather disorganized and the point system was more off this year than before.
When arranging a pep rally and spirit week, it needs to be constant throughout the years. If we do points from the powder puff game one year, do it again next year. If you tally points for which grades dresses up the most for spirit days one year, do it again next year.
As a junior, this was my third pep rally and I speak for myself, and the majority of my class, when I say, we are mad. The score at the end of the rally was 2-1 with juniors in the lead, beating the seniors. We won the powder puff game and we won tug of war, fair and square. The seniors got 1 point from the sing off and even then they sang twice because of technical difficulties. Being a junior, I was so excited at the end of the pep rally, me and all my friends were finally ready to be awarded the spirit stick after waiting 3 years. As it came to a close though, the hosts said, "we're graduating and that's the biggest win of all" and awarded the stick to the seniors. It was unfair, wrong, obviously not deserved, and made the juniors furious.
We need to move beyond this, juniors. We have to remember how we felt on that Friday in October so that we don't make others feel that way. This does not give us an excuse to act entitled just because we are seniors.
I love Wakefield, and have since I was a freshman. Let's get ready now for the next pep rally.
Leave a Comment
About the Contributor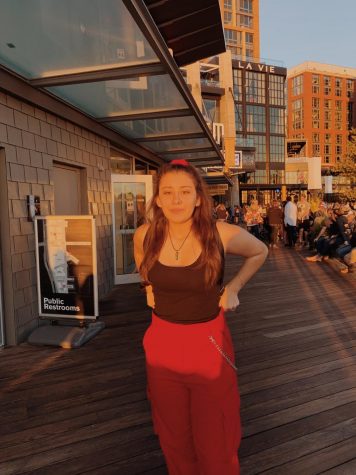 Sophie Hott '20, Features & Lifestyle Editor
Sophie Hott is a senior at Wakefield this year, and this is her 4th year on The Chieftain. This year she is the Features and Lifestyle Editor. If she isn't...