Where Is Our Mascot, Wakefield?
Every school has school spirit and a symbol that represents them. Wakefield has a big fan base, but why don't we have a mascot costume?
The school used to have a costume when the mascot was a Native American, but Wakefield changed the mascot in 2003. Ever since then, the school has had a couple different warriors (like knights) representing Wakefield. Because of the frequent change, it has been tough to get a physical mascot costume.
With the new building, Director of Student Activities, Ms. Noel Deskins had a new mascot image made to represent Wakefield. According to Ms. Deskins, there are plans for a mascot costume to be purchased this summer. The reason why one hasn't been purchased is genuinely because of money. Ms. Deskins said "I called a vendor to get a quote – it would be anywhere from $4800 to $7000. Ouch!"
Wakefield is known for their prolific Super Fans. Seniors Anthony Lopez and Leo Biette-Timmons led these superfans throughout their junior and senior years. "A mascot would bring another level to the Super Fans. It would give them an advantage against other school's hype squads," Lopez said. He added that he would love to be the man inside the costume, given another year of high school. A mascot could help hype the fans; it would be a great addition to the school's already powerful school spirit.
We have all been waiting for a mascot and it's about time we got one. If one can't be purchased by the athletic department, hopefully a class can have a fundraiser and donate one to the school. Wakefield has been mascot-less for too long!
Leave a Comment
About the Contributor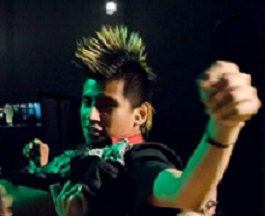 Jesus Enriquez-Hernandez '14, Staff Writer
I'm too punk for normal things, but not punk enough for punk things.