What It Is Like To Be A Sophomore On A Winning Varsity Team
DANNY VADO:
by Jahdorna Grant '15
Nicaraguan born soccer player, sophomore Danny filled us in with the deets of his Varsity soccer career. Very few sophomores make it to Varsity. Even fewer have as much playing time on the field as Danny. Even fewer than that have to juggle being on a Conference 13 Contending Varsity Boys Soccer team, State Champion Travel Soccer team, and the tremendous workload given at school.
When asked to give advice to someone just starting out, he said, "Work hard no matter what and if you're nervous don't worry about it, you'll be fine." He continued with more guidance, "Always interact with your team because it will bring you closer to one another and because a team divided can't win."
Danny started playing soccer at 5 years old. After his move to America, he started playing travel soccer in Virginia. He met the person who has influenced his life the most on this team, Coach Wood. When thinking about the most impactful person in his life, Danny looked up and smiled as he said, "He has always been there no matter what and although he isn't my coach anymore he stills cares for me and is always interested in knowing how I'm doing." What made him so special to Danny was that he always, "…motivate[d] me to do better."
There was a great deal of anxiety to perform at his highest potential on this Varsity team. He said, "at first there was a lot of pressure from my teammates. Being one of the youngest on the team, you're expected to be able to keep up. But after a couple of games and getting to know my team better, the pressure went away and they were more open to my opinions."
It can be a struggle to balance school and life. For Danny it was difficult because his interest is always on the soccer field. He said, "it's hard because I have travel and school soccer. [With]…the gap between high school practice and travel practice, and with the help of Warriors' Period at school, I'm able to get my work done."
Danny's biggest challenge was when he recently broke his nose. He said," it was during one of my travel soccer games. I was in such excruciating pain and after the accident it was hard for me to watch my friends play, but I have a lot of trust in them to get the job done."
Soccer has extensively changed his life. He said that without soccer he "would probably have no life right now." When asked if he would continue the sport after high school he said, "Always and forever."
BLADIMIR GUDIEL:
by Nathalie Gabutan '16
El Salvadoran born soccer player, sophomore Bladimir Gudiel, found his home on Wakefield High School's Varsity Boys soccer team. Being a sophomore and making it on a varsity team is rewarding, but also a challenge trying to keep up with older teammates. But for this lucky player, he gets to show off all of his strengths and his passion for the game. He said, "I started playing when I was 9, and still in El Salvador."
When asked how he deals with the pressure of being a sophomore on a varsity team he said, "you have to push harder more than anyone else on the team." He went on to say that one of the greatest challenges he had to overcome was, "playing against someone bigger and better."
Blad wanted to share how he stays focused and makes himself a stronger athlete. He said, "I listen to music, or I talk to [senior and captain of the team] Dani Lopez." Read the article about Dani Lopez here.
He was asked about his greatest achievement in the sport. His face lit up and the biggest smile that he had given in the interview appeared on his face. He said, "being in varsity shows that I can really help out the school." He also gives another piece of critical advice to soccer players starting out, "don't give up, push yourself to the limit."
Leave a Comment
About the Contributor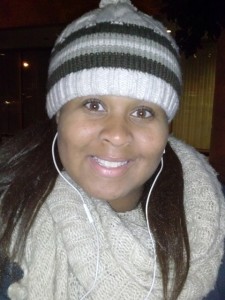 Jahdorna Grant '15, Staff Photographer
Sports, Photography, and Music are passions of mine."You gain strength, courage and confidence by every experience in which you really stop to look fear...