The Chieftain Shares Best-Loved Thanksgiving Foods
The Wakefield Chieftain had a big Thanksgiving feast last Thursday to celebrate our impending break; it was so good. Some of  The Wakefield Chieftain writers shared their most-liked foods for Thanksgiving, and even why they are so special.  This could give you ideas of what to eat for Thanksgiving; it's only two days away, Warriors.
Main Dishes
Ham
Junior Cason Poythress doesn't really know how it gets there, but he knows it is his favorite. He said, " It's good ham. It just kinda appears."  We hope it just kinda appears on your table, Warriors.
 Turkey
Sophomore Ayansa Mergia said, "My mom makes it for the family. At 9am, we eat the turkey together every year. My cousins and uncle and brother and uncle's children are there all around the table. That is my favorite thing about the turkey. Just eating together." That sounds like a great morning, Ayansa.
Other Main Dishes
Some families don't have Turkey or Ham for Thanksgiving. Senior Paul Albert Garado said, "Someone in my family makes steak. It's usually good. It is what I look forward to every year." Junior Kimberly Rendon said, " My mom is from Mexico and we switch every year from Mexican to American food. My mom makes tacos. It's different because no one really does that." Well, almost no one does that. Another staffer shared her memories of a Mexican Thanksgiving. Junior Vivian Tirado said, " Ever since I was little, we go to our grandma's house. We sit together in the kitchen and make tamales. Over here [in America] when I see tamales, it reminds me of her."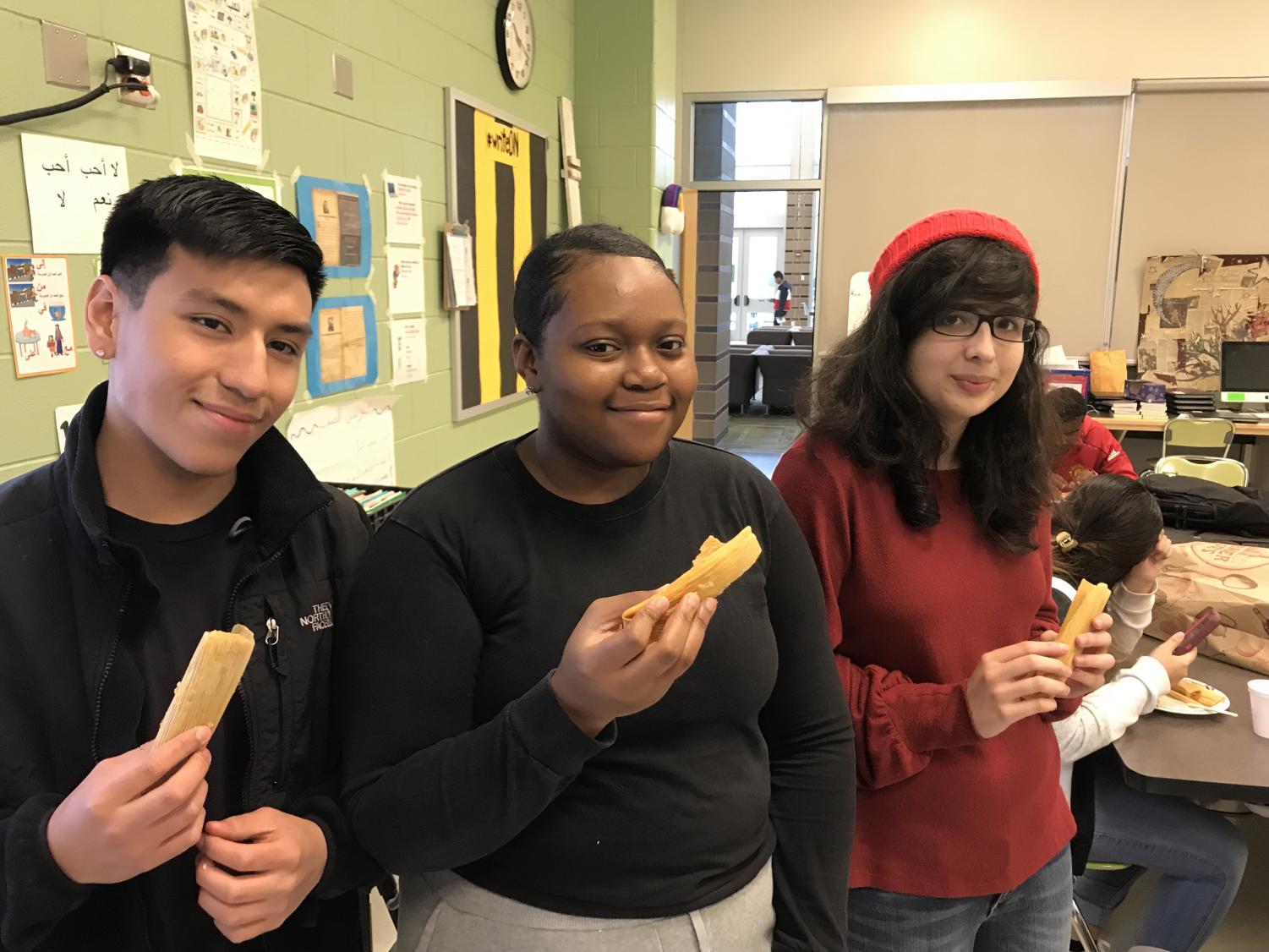 Side Dishes
Macaroni and Cheese
You haven't lived until you have had baked macaroni and cheese. Junior Chris Cooper said, " It goes with everything. My grandmother makes it at my grandparent's house with the rest of the family. I really look forward to it. It is the best I have ever tasted. There is a special feeling I get when I taste it. It makes me feel happy." Quite a nice tradition.
Mashed Potatoes
Junior Sophie Hott said, "It's the yummiest." Junior Alejandra Galdo Hernandez said, "I really look forward to the mashed potatoes. My mom makes them. I really need to learn how to make those." Senior Zach Saltos said, "We usually go to a relative's house. We get mashed potatoes from Boston Market on the way there. We get them from Boston Market purely because they taste significantly better than other mashed potatoes."
Cranberry Sauce
Cranberry sauce is on everyone's tables…but does anyone really eat it? Junior Takier George said, " I'll eat it by itself, I like it better than real food. It's sweet. I've made it before. It's the best food ever." I agree, Takier. My family and I go to my aunt and uncle's house for Thanksgiving, and she makes a nice big meal for the whole family. The one food in the meal that I can't stop eating is the cranberry sauce. It's so well made, and it goes with anything. It has a very unique taste; I like it a lot.
Other Sides
Some staffers don't eat the traditional fare. Junior Carla Barefoot said, " I don't really celebrate Thanksgiving, not really. My mom usually makes Shrimp soup because it is kind of cold outside and we like hot stuff." Sounds like a great alternative to turkey dinner. Senior Grace Jones said, "We make Mrs. Deppas rolls; they are sugar rolls and everyone in my family fights over them . The cousins try to steal too many. One year the basket got passed over a tall candle and caught fire so we still joke and say, 'Don't mess with the rolls.'"
Desserts
Apple Pie
Senior Elena Arrowsmith loves apple pie. She said, "My grandma always makes six [apple pies] and I eat an entire pie then I eat another one the next morning. Not many people in my family love and admire it like I do." Carlos agrees. He said, "I like apple pie. It's the only thing I ever eat." He brought the most delicious apple pie from Heidelberg Bakery to the Thanksgiving potluck. It was gone within minutes.
Senior Hannah Foley said this of her family's apple pie; "It's my grandma's famous apple pie recipe that my dad now makes. We use a special machine that peels and cuts [apples all] at once. It allows for maximum juice. The secret is putting butter under the crust and…oh…it's good." Thanks for sharing a family secret, Hannah.
Pumpkin Pie
Senior Ariana Sousa said, " I don't have history, but the reason I like it is because I'm surrounded by family and realizing there is a lot of hard work put into making the meal. Seeing them and eating together is the best kind of bonding."
Other Desserts
Junior Mario Hernandez said, "We eat Munchkins in the morning. They are delicious. The tradition started freshman year. My mom walks into the kitchen Thursday morning with two huge carry boxes of Munchkins. The oreo one is the best." Sophomore Zakiyah Gaziuddin said, "We don't really celebrate Thanksgiving, but my mom has made Boston cream pie for dessert ever since I was little. It is a special moment in the day."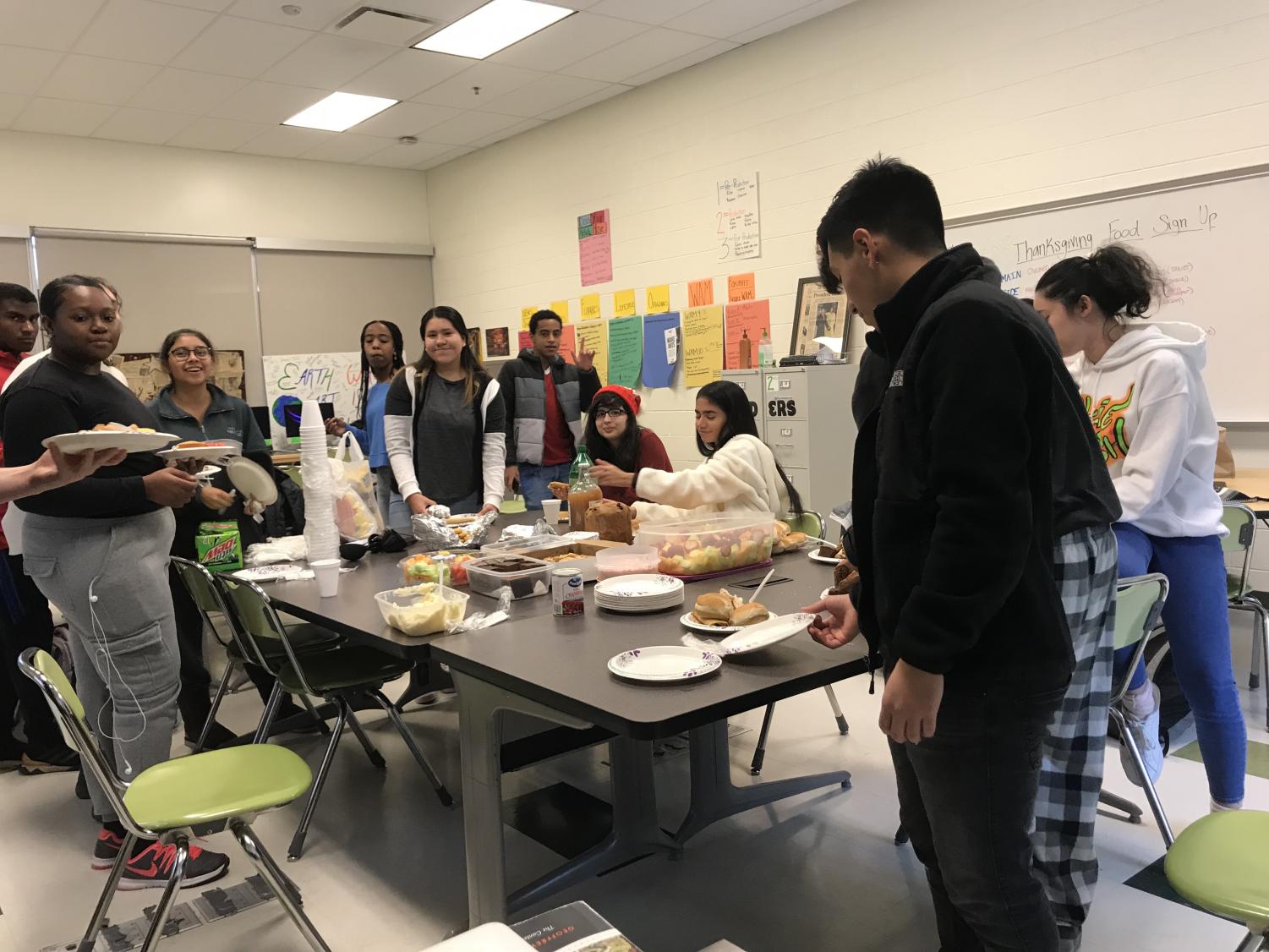 This hopefully brings some new ideas on what you can eat for your Thanksgiving meal. Most of the memories shared revolve around family, so spend time with those closest to you over this short break.
Leave a Comment