Wakefield Gymnastics Achieves Goals Early
The Wakefield Gymnastics team is off to a great start. They have already achieved their point goal for the season, and they've only been competing for 2 weeks!
This team has been growing like crazy the past few years. This year's seniors remember when they could barely field a team! Senior Anne Felipe said, "I remember my freshman year it was me, Gabby (Spranger), Sydney (Hanley), and Marika (Mortimer-Lotke '17), and that was it, and now we have this huge team! We have a lot of freshmen and sophomores and it's really awesome to see."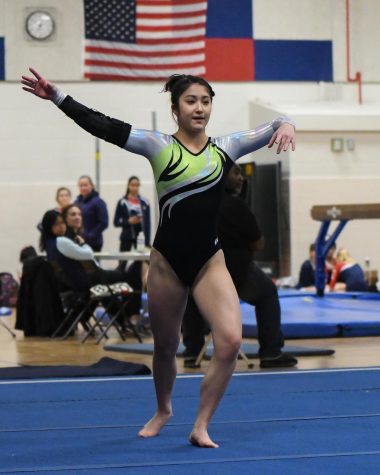 With more people, comes more success! Sophomore Sophie Gamboa is new to the team but has already helped the team in big ways! She and Gabby took 1st and 2nd place in their last meet in the all-around competition, and the team won 1st place overall! Sydney said, "This past meet we got a 138, which is by far the highest score we've gotten since I joined the team, so we're hopeful for the rest of the season!" 
Gymnastics competitions can be long, but it's worth it! There are 6 rotations, 4 events (beam, bar, vault, and floor) and 2 byes. Not everyone competes on every event, the ladies pick what events they are best at (or like the most) and compete in those. Something that is different for Gymnastics than any other sport is all 4 events are happening at the same time. So everyone is looking and cheering for their team, but there are also 3 other teams and fans doing the same thing! Gabby said, "It's a very high cheering sport, teams cheer a lot and cheering really helpful."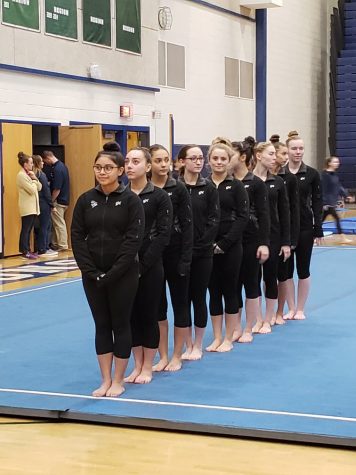 Photo found @WakeAthletics
Gymnastics takes a lot of equipment. From the thick mats to line the floors in case they fall (it's not the same mats the cheerleaders use!) to the beam, bars, and vault needed to practice, that's a lot of equipment. A few years ago, gymnastics couldn't practice at Wakefield because there was no equipment for them to use. Anne said, "(the equipment) definitely has been built up over the past 3 years, that is one thing that has been awesome. We have a lot of mats now, we have vault and beam which we did not have my freshman year. The beam is a little slatted however… We only practice at Wakefield on Tuesdays, and that's not for very long. We can't do a lot just because the equipment set up, so usually we practice at WL. 
This year's senior class is something special. They came in as freshman and really started building up the program. Anne, Sydney, and Gabby have been doing gymnastics for a combined 38 years! All of them have been key members of this team over the last 4 years. This may be the last year of gymnastics for these ladies. Anne and Gabby are finishing up, and Sydney is waiting to see where she goes to college before seeing if she wants to compete recreationally.
Their Senior Day is Saturday, January 19th at the Washington-Lee Invitational. Let's go support these ladies in one of their last meets!
Leave a Comment
About the Contributor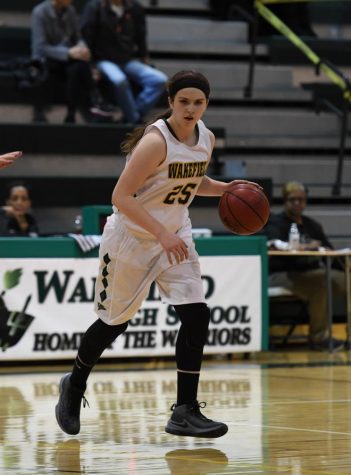 Hannah Foley '19, Staff Writer
Hi, my name is Hannah. I am a senior and this is my second year as a staff writer on The Chieftain. I'm also the captain of the basketball team and a student...