Top 3 Things to do at Home in Honor of the Holiday Spirit
It is very chaotic and crowded everywhere right now! So, I'm here to bring you the fun, without even having to leave the house. These are the top 3 things to do at home in honor of the holiday spirit.
Girls night! Gather all your friends to bake some fresh cookies of your choice. Head over to the living room for some Netflix. I totally recommend "The Holiday Calendar" if you and your girls are all feeling romantic or if you're looking for something more humorous, go for "How The Grinch Stole Christmas". I give both of these movies a 10/10 AND a thumbs up.
If you're looking to spend quality family time, decorating a ginger bread house is a great hands-on activity. And maybe even making hot chocolate with mini marshmallows to cool down from a heated game of Uno with your family.
Or, if you're looking for one-on-one time with a bestie or loved one, make home made face masks you can enjoy putting on each other, have a brownie making competition, then sit back and relax while watching a movie marathon.
Enjoy these stay at home activities over Winter Break and you will feel like you are on vacation. Happy Holidays!
Leave a Comment
About the Contributor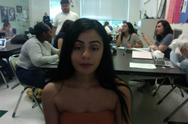 Kimberli Tellez '20, Staff Writer
My name is Kimberli Tellez. I'm eighteen years old and I enjoy fashion and all the latest trends. I love to go shopping and spent time with my friends....