Varsity Basketball Has High Hopes for Hot Season
The Wakefield Basketball season is always one of the most exciting times each school year at Wakefield. The Boys have been training all offseason and are ready to play. Last year, the boys played in Richmond in the finals of the State Championship. They lost to Varina High School, 64-60, two baskets away for the State title. This year, the primary goal is to win the ship, and play some solid, respectable ball along the way.
Senior Brody Karton said, " We're looking forward to finishing what we started last year. Getting back to the State Championship and winning it." The best part of this year's team is all of the senior starters: Chris Warner, Brody Karton, Robert Starkey, Jared Watkins, and Gabe Tham.  These players have been grinding and waiting for their time to ball out in front of the school. Gabe is the third Tham to come through Wakefield Varsity basketball, with his older brother (Domo) and older sister (Jami) being standout stars for our Basketball teams.
The whole team is very excited about this upcoming season. They have a balanced mix of experienced veterans and new talent that will help them keep that energy on the court. When asked about their plan for the upcoming games, everyone seems focused on that title that is at their fingertips, but not firmly in hand. Chris Warner said, "We got one mission, win the state championship, and bring home the trophy to where it belongs."
There's a lot of competition in the conference this year, and that gives the boys a reason to work harder and prepare for a competitive game at every match up. With the talented teams working their hardest to compete against Wakefield, there will be many great games to come out and watch.
Friday, November 30th @ T.C. Williams at 7:30pm
This game is a MUST-WATCH for basketball fans. There is an excellent rivalry between these two teams and the game always becomes heated and creates many exciting events throughout the game.
Wednesday, December 5th vs. Washington- Lee (Home at 7:30pm…DOUBLE HEADER! Varsity Girls 5:45pm)
This game will be an exciting one. The Warrior's have a cross-county rivalry with this school, and it is a double header. JV Girls play at 4:30pm, Varsity Girls play at 5:45pm, and Varsity Boys play at 7:30pm. The boys will be playing against a team they have either gone to elementary and middle school with, or just played basketball with in the past. These players know each other well, which means a dramatic game you don't want to miss.
Tuesday, December 18th @ Marshall at 7:30pm
If there is one game that you can make it to this season, it should be this one. The boys lost to the Statesmen last year in the Conference Championship, and beat them in the Conference Championship the year before. When these teams meet, it's usually a battle for pride in knowing they're the best in the conference.
These are the top games scheduled so far for this season. There will be plenty more exciting games in the future that you won't want to miss. . Here is the schedule.
Be sure to come out and watch our boys make a run for States. #WARRIORNATION
Leave a Comment
About the Contributor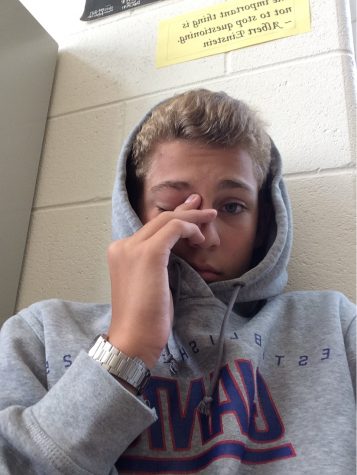 Cason Poythress '20, Staff Writer
Cason is a freshman and in his first year as a staff writer for the Wakefield Chieftain. Cason Plays football for the freshman football team and also plays...