A Senior Looks Back On His Decision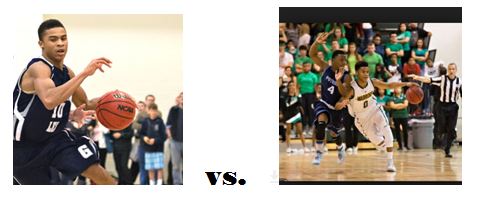 Senior year at Wakefield is definitely something to remember, on and off the court!
Junior year at W-L was the worse. My grades slipped, I lost friends and lost games… a LOT of games. There was no support system at W-L. Basketball is so important to me; I felt like at my old my school it was a joke to everyone else. People would leave our basketball games to go watch Wakefield play. It was the most disrespectful thing a basketball player could witness. The only games the student body showed up to were the one vs. Yorktown. Other than that, the games would be emptier than my English class on Senior Skip Day.
I knew it was time for a change; I couldn't have the same thing happen my senior year. So, in the summer, I decided to transfer to Wakefield. My goal was to win a state championship and also pass the NCAA clearinghouse to fulfill a lifelong dream. I feel like even though we were one game short of a state championship, I couldn't have asked for a better senior basketball season.
We won a conference title, a regional title, broke top ten records in assists in one season, beat a undefeated team, and were one game, and 8 points away, from a state championship! It wasn't exactly a story book ending, but it was worth it. I don't regret transferring to Wakefield. I met new friends, became brothers with the basketball team, and got the best love from, and for, my teachers and administrators. #WarriorNation