Eight Performers, One Night: Jingle Ball Helps You Find New Music to Love
Last week was the annual Jingle Ball at Capital One Arena. Jingle Ball is a concert where you see 6-12 artists you know and love. It takes place in major cities all over the U.S. This year there were 8 total performers: Sabrina Carpenter, Bazzi, NF, Bebe Rexha, G-Eazy, Meghan Trainor, Shawn Mendes and The Chainsmokers. Each artist had anywhere from a 15-35 minute set depending on their most popular songs. The show began at 7:30 and ended around 11. That's 3 and a half hours filled with stunning performances.
Sabrina Carpenter opened the show. Many may know her as Maya Hart on the Disney show 'Girl Meets World', but seeing her energy on stage there is no doubt she will soon become known for her music. She had amazing choreography with her backup dancers and hit every note perfectly. She just released her new album "Singular: Act I" and performed her single "Sue Me" and had the entire crowd feeling powerful and ready for the rest of the night.
The second performer of the night was Bazzi. Bazzi blew up in 2018 after the release of his album "COSMIC" which features his hit songs "Beautiful" and "Mine". He is an amazing live performer and brings an incredible energy to any stage. No matter the crowd, you can see how much fun he has performing his songs. He would yell at the audience to sing along and become a part of his performance. My friend and I couldn't stop dancing and jumping his whole set.
Up-and-coming rapper, NF was next to perform. Even if you think you have never heard him, his hit song "Let You Down" was on all the radio stations. He opened his set by being trapped inside a huge cell while performing "Outcast" from his recent album "Perception". NF is an extremely talented performer and amazing lyricist, all his songs focus on real issues and go deep into mental health and how serious it can be. The last song he performed was, obviously, "Let You Down" and everyone in the crowd was standing and shouting the words as we all appreciated the very impressive performance he had just delivered.
After NF was Shawn Mendes. He opened his set with an amazing intro and had beautiful visuals playing behind him throughout his set. He began by singing his hit "There's Nothing Holdin' Me Back". During every song he sang he would yell at the crowd to sing along with him and we would yell the words as loudly as we could. He interacted with the crowd the whole time and you could tell that is what motivated him to keep singing. He ended his set with the biggest single from his most recent album, "In My Blood". "In My Blood" is one of the few songs that almost anyone can relate to and when he sang those first few words the crowd went wild and they sang along to every word that followed.
The next artist to perform was Bebe Rexha. She opened her set with a very incredible and 'lit' light show and visuals. She gave a small speech in the middle of her set about love and how it makes the world go round. She then sang "In the Name of Love" with Martin Garrix and the whole arena was singing along with them. She had an insane amount of energy and was having the time of her life just dancing to her own singing. She ended her set with her Pop/Country hit "Meant to Be" featuring Flordia Georgia Line. It had everyone dancing in their seats, even if they say they didn't like country.
Following Bebe Rexha was G-Eazy. He opened his set with a ton of energy while performing "Me, Myself & I". The entire time he was on stage he had high energy and did all he could to hype up the crowd. When his hit song "No Limit" started playing, the crowd went wild and everyone was dancing around in their seats. G-Eazy had a super energetic set that kept everyone pumped for the last two performers.
As G-Eazy left the stage, Meghan Trainor strunted her way to center stage. Trainor was supposed to go to Jingle Ball a few years back, but had trouble with her vocal chords and couldn't perform. She finally made it up with an amazing show this year. She was the definition of empowerment and got everyone up and dancing with her. She gave small speeches about the importance of self love and then informed the audience on her recent engagement. She ended with her recent single "NO EXCUSES" and left the audience with a little more confidence.
The last, but definitely not least, performers of the night were The Chainsmokers. They opened their set with amazing visuals and one of their earliest hits, "Roses" They performed many new songs from their upcoming album. They incorporated many songs into one set and had the smoothest transitions. Being the only EDM performers, they had some of the best energy you saw the whole night. Everyone listened whenever they would scream at the audience to jump, and everyone was just living in that moment enjoying the music and forgetting everything else. They ended with their timeless hit, "Closer" and left everyone wishing the night would never end.
Jingle Ball is a once a year experience, and an extremely fun one. It's a chance to see multiple different artists all at one event at around the same price as a normal arena concert. It doesn't matter if you like all the artists or not, it's the perfect way to discover new music and have fun with friends, family, or both! If you have the opportunity, you should try and go to Jingle Ball, you won't regret it.
Leave a Comment
About the Contributor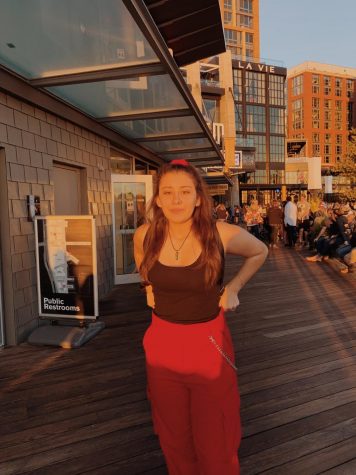 Sophie Hott '20, Features & Lifestyle Editor
Sophie Hott is a senior at Wakefield this year, and this is her 4th year on The Chieftain. This year she is the Features and Lifestyle Editor. If she isn't...