Employees of the Year Talk About What Makes Wakefield So Special
Every year, the Wakefield community nominates incredible staff members for the title of "Employee of the Year." Wakefield has lots of amazing staff, but only a handful can be awarded. For the 2018-2019 school year, the Employees of the Year are Debby Pettit who is a teacher in the HILT department, John Castaneda who is a Resource Assistant, Willow Scott who is an Administrative Assistant, and Cynthia Ampem who is the Maintenance Supervisor.
Debby Pettit, is the HILT department chair here at Wakefield. She also teaches in the science department, specifically a new course called Foundations of Environmental Science and this is her 4th year at Wakefield. When asked what being employee of the year mean to her, Ms. Pettit said, "I'm very honored that my colleagues nominated me and recognized my work…. I just feel humbled that they took the time." When discussing how Wakefield has impacted her, Ms. Pettit said, "What I love about this school is I think the staff at Wakefield put their money where their mouth is, in the sense that the people who work here really care about kids, and they are investing in caring about all students… I feel like its a really safe, warm environment."
Resource Assistant John Castaneda told The Chieftain that both being nominated and receiving the title is an honor. Being at Wakefield has helped Mr. Castaneda better approach teaching; "I've learned from great educators that teaching is not always as simple as presenting the material out of the book. Many use Differentiated Instruction so our students learn the material effectively and can be successful." Here at Wakefield, our staff really care about their students. Mr. Castaneda said, "One of my favorite things about Wakefield is the staff I work with. The faculty here truly care for their students and want them to succeed not only in the material being taught to them, but also preparing them for what to expect after high school."
Willow Scott is the Education Administrative Assistant to Mr. Turrisi, and has worked here for 25 years. Ms. Scott said, "I have finally been recognized for doing a great job. It warms my heart to see that the Big Wheels do see what you are doing even when you think that they are not." Working at Wakefield is a very unique experience; she said, "My favorite part of Wakefield is meeting so many different students and learning about their culture. All students have taught me something at one point in time." After her many years of working at Wakefield, the one thing Ms. Scott would like to tell Wakefield is, "I would like Wakefield to know that I have enjoyed my 25 years here. It has been good and bad but I would not change anything at all…a great learning experience."
Another Wakefield staff member who earned the title of Employee of the Year is Cynthia Ampem. Ms. Ampem is the Building Assistant Manager at Wakefield and has worked here for 18 years. When asked how it feels to be Employee of the Year she said, "I feel amazing, I'm so happy." Being in the area and having worked here for so long, Ms. Ampem feels very supported by the other staff at Wakefield because of the time she has spent here. The one thing Ms. Ampem wanted to add is a request; "I need all the students to help the custodians make the building clean." It's important for all the students to appreciate all the work the Wakefield staff does for us.
All staff at Wakefield work extremely hard everyday to make this a safe and welcoming place for the students. Wakefield is truly lucky to have such an amazing faculty and as Ms.Pettit said, "I know that there are so many other teachers who are deserving at Wakefield, and I know they are doing really good work; I think that's really important. I think it really takes a village and we cant be successful without everybody contributing to the global effort."
Thank you to all of our Wakefield staff for all you do, and congratulations to Ms. Pettit, Mr. Castaneda, Ms. Scott, Ms. Ampem, our Wakefield Employees of the year!
Leave a Comment
About the Contributor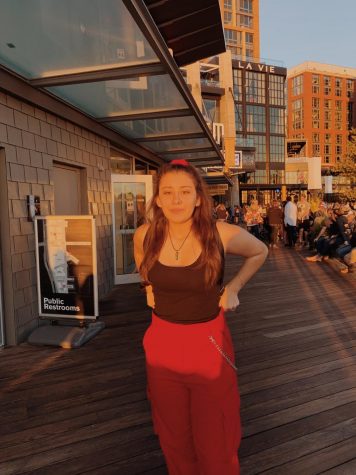 Sophie Hott '20, Features & Lifestyle Editor
Sophie Hott is a senior at Wakefield this year, and this is her 4th year on The Chieftain. This year she is the Features and Lifestyle Editor. If she isn't...