Wakefield Warriors Win Posse Scholarship
Recently, a couple of outstanding Wakefield seniors, Andrea Rivera, Nahom Ayele, Chinggis Amarburen, were selected to receive the Posse scholarship award. This award gives them the tuition money to attend one of the five partnering institutions in Virginia for four years. All. Tuition. Paid. For. Four. Years.
These Warriors were completely overjoyed when they found out that they had won the scholarship. Chinggis said, "I was in shock basically, I couldn't believe that I won." Rivera is planning to attend Lafayette College, Ayele will attend Bucknell University, and Amarburen will attend Sewanee: The University of the South.
Students who are chosen to receive the scholarship are given a full-ride to any college or university that is partnered with the Posse Foundation. The Posse Foundation has been selecting diverse students in certain cities with exemplar leadership skills and training them so they can reach their full potential. Though the payoff is worth it, the journey is not easy.
"
Advice for interviews: Always be your true self and force yourself to walk on the edge of your comfort zone."
— Nahom Ayele
Andrea explained the process they had to go through in order to ultimately get the scholarship. The students had to hand in submissions to be nominated by a staff member for the scholarship. If the student was nominated, they then had to go through three interview rounds. (The first and the last interviews were grouped together with other students and activities, and the middle interview was one-on-one.) If the student makes it to the final group interview, they either get matched with a school or receive the scholarship.
The three seniors also had advice for anyone interested in trying to receive scholarships like this one. Chinggis said, "Try your hardest and be honest at the interviews, being fake will get you nowhere." Nahom had similar advice; he said, "When you're going through the interview process, always be your true self and force yourself to walk on the edge of your comfort zone. They will constantly be watching you and seeing whether you are forcing it or not."
For anyone interested in applying to scholarships like this one, there are a few things you can do to raise your chances at getting the scholarship. Rivera said its important to "be involved in school activities, taking leadership positions, and being active in your community." But overall, she emphasized that the most important thing is to "just do it!"
To all the seniors, good luck! Graduation is just around the corner. #snrszn
Leave a Comment
About the Contributor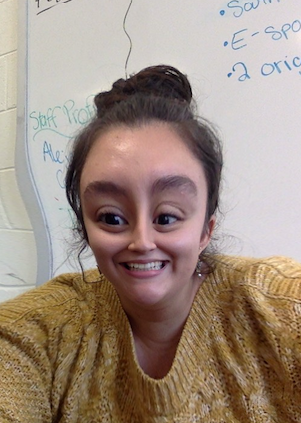 Carla Barefoot '20, Co Editor-in-Chief
Hey guys; I'm Carla. I'm a Co-Editor in Chief on The Chieftain and this my third year in journalism. I like to listen to all different genres and languages...