7 Career Center Classes You Need To Know About
Ever wanted to solve a mystery? Fix a car? Become an EMT? When you take classes at the Arlington Career Center, all of these things can become a reality. With scheduling meetings coming up in the next few weeks, let's take a look at some of the amazing classes the Career Center has to offer before you decide on your schedule for next year.
Emergency Medical Technician (EMT): If you're interested in medicine, this class is for you. Students in the Career Center's EMT course have the opportunity to become a certified EMT and perform clinical rotations by the end of the course. Senior Hannah Jones, a current student in the Career Center's EMT course, said, "I take EMT and it's definitely a worthwhile class. I highly recommend it for anyone who's interested in medicine or being a first responder. My favorite thing is that we get to do ride-alongs in a real ambulance and do rotations with doctors in the emergency room."
Automotive Technology: Everyone should know a bit about cars. The Automotive Technology class gives you a great introductory understanding into how cars work. Junior Jonathan Campos, a current student in Automotive Technology, said, "You get experience with other things that you just don't get here. We took apart cars, changed tires, repaired brakes, and even did welding." Even if you don't plan to be an auto-mechanic, understanding cars can save you a lot of time and money.
Physical Therapy: Interested in anatomy or want to be a physical therapist? Try taking Physical Therapy! Students in this class get to combine hands-on experience with traditional classroom learning, practicing skills like massage and how to safely carry patients. Senior Cahil Redding took Physical Therapy at the Career Center his junior year. He said, "It was a really fun and interesting class that was a whole new environment than what I was used to."
Cosmetology: Hair, nails, and more–in Cosmetology, students get to dive into the world of beauty. Junior Kaily Portillo said, "My favorite thing about cosmetology is the atmosphere. Everyone there loves what they're doing and it just inspires me because I want to love my future job as much as they do." Junior Natalie Rondal, another current Cosmetology student, said, "I would recommend it to my friends because we get to go on trips, do other outside activities and do in-school spa days where you can earn tips."
Animal Science: Who wouldn't want to spend time with cute animals during their school day? Students in Animal Science get to work with snakes, dogs, ferrets, goats, chickens, and even a miniature horse! Junior Julie Payas said "I would recommend taking this class because it shows you how beautiful nature is and educates us on how special each and every animal is."
Forensic Science: Everyone loves a little bit of mystery! Students in Forensic Science learn about criminal psychology, analyze crime movies, and even work with mock crime scenes. Junior Jonathan Guevara is a student in the Career Center's Forensic Science class. He said, "My favorite thing about forensics is that its mostly all hands-on activities, which makes the class fun and gives you a better understanding of the topic. You learn a lot that you may not expect." Senior Mary-Faith Melgar said, "The craziest thing we did in Forensic Science was in our Psychology unit when we would learn about all these people and why they did what they did."
TV Media Production: Lights, camera, action! In TV Media Production, students get to work behind the scenes of production with a live TV studio, sound board, switcher, and high-quality visual equipment. Senior Spencer Hill, a current TV Media Production student, said, "I learned how to use camera and editing techniques in unique ways to create interesting and meaningful videos." Senior and Girls' Basketball Captain Hannah Foley, who took TV Media Production her sophomore year, said, "We filmed and edited lots of videos. We submitted them into contests and won medals! Although we had to get up earlier, I was motivated and excited for this class."
Make sure you take full advantage of all the opportunities available to you at Wakefield and sign up for some Career Center classes! Don't see anything you like from this list? Click here for a full list of classes.
Happy scheduling!
Leave a Comment
About the Contributor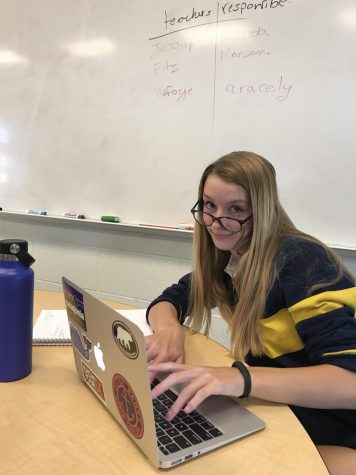 Grace Jones '19, Staff Writer
Hi, I'm Grace! This is my first year on the Chieftain and I'm a senior. I like to play soccer, walk my dog, and eat chimichangas. I like writing about...