First VFB Game? First Victory!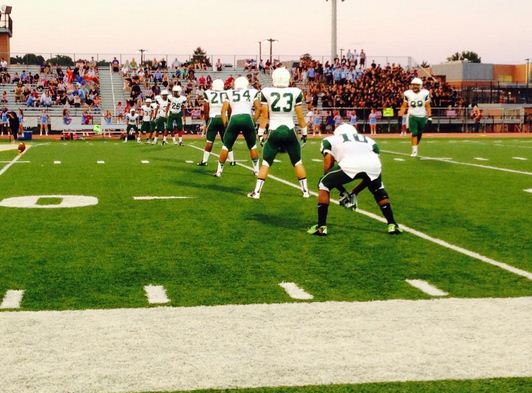 Warrior Gridiron showed their mettle in a heroic first battle against Marshall last Friday. The final score was 40-6, and these Warriors earned every touchdown.
"We handled business like we should have and got the victory. We look to ride this momentum into this week's game…against Mason" said Running Back Leon Young.
David Reyes kicked it off right. Then, Young showed how much he has progressed since starting with the team. He got two touchdowns early in the game. Reyes kicked an extra point for a score of 13-0 at the end of the 1st quarter.
Young kept the drive alive and scored another touchdown. Quarterback Riley Wilson added to the score by turning a 55 yard fumble return into another touchdown for #warriornation. "He scooped and scored on defense" Young said of his team mate. Fullback Kareem Hall scored touchdown number five for Wakefield. #WarriorNation rattled the stands in celebration as the team ended the half 34-0.
Young got yet another touchdown like it was his job; the score was 40-0 at the end of the third quarter.
In the fourth, the Statesmen got some points on the board. The final score of Warrior Gridiron's first official game of the 2014-2015 season was 40-6, #warriornation.
There is a WHITE OUT at GEORGE MASON HIGH SCHOOL on Friday, September 12th at 7:30 pm. Support our Warriors, win or lose!