Students of the Month: We Can Finish 3rd Quarter with Their Advice!
March is a no mans land of no days off, Warriors.
We have one Early Release day on March 13th, and other than that, it is a never ending pattern of 5 full days of school each week with no end in sight until after 3rd quarter ends on March 29th. We don't even have Spring Break until April 15th.
Our Students of the Month met for The Chieftain's Monthly picture and decided to give us some tips on how to make it to sweet, sweet Spring Break (32 school days from today!)
Sophomore Zeinab Mukhtar is going to "try to spend more time relaxing, but at the same time pushing myself." Ok, that sounds like a balance we need in our lives.
Freshman Gretchen Coe is student goals with her ideas to "do homework, study for quizzes and tests, and make sure I stay on top of my work." Junior Rachel Peterson said something very similar; "I am doing my homework and staying on top of things."
Junior Ryan Klug said he is going to make sure to "make sure all my work is done so I don't fall behind." Good advice, Ryan. Juior Charlotte Greenwood said her goal is to "write my assignments down and don't fall behind."
Overall, our Students of the Month had one common theme, stay on top of your work and don't fall behind. Interims are at the end of this week, Wakefield. If you are behind, talk to your teacher to catch up before any more time passes. Once you are caught up, jut turn in your work every week. The end of 3rd quarter is one month way, Warriors.
Leave a Comment
About the Contributor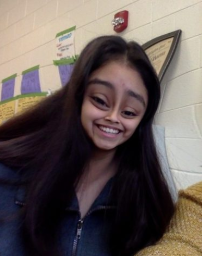 Alejandra Galdo Hernandez '20, Co Editor-in-Chief
Hi I'm Alejandra! I'm a senior and this is my third year writing for The Chieftain. Some of my interests include reading, plants, and my kitties. I'm very...