Wakefield's First Black History Month Assembly
This Monday, February 25th, Wakefield held its first Black History Month Assembly! From West African dances to some iconic speeches, this assembly was one to remember. Students only had three weeks to organize this event, but managed to put on a beautiful show. This wasn't an all school assembly, so The Chieftain is here to give you a recap on the magnificent performances.
This assembly was extremely important for many reasons. Senior Oliver Gaither said, "I think it's important because it opens people's eyes to culture that might not be their own and it gives people an insight into stuff like music and politics from another culture and another perspective. I'd love to see it expand next year, maybe have a longer time slot and more performers."
"
African American History is American History.
— Ms. Waters
It all started when some students from Black Student Union (BSU) reached out to their African American Studies teacher, Ms. Waters. Senior and President of BSU, Kaylah Gillums said, "Ms. Waters was essential. Originally I wanted to have a Black History Month Assembly when we started the BSU this year." Ms. Waters added, "A couple of students in Black Student Union approached me about the idea of having a Black History Month program. We thought, let's show the diversity of American history through the African American lense." After getting Ms. Water's support, they were ready to start planning.
The students decided that the performances would be organized around the idea of "traveling through history," starting from the very beginning of the nation and working up to the present. Ms. Waters said, "They designed it, my job was just to make sure the script was done and the historical accuracy was there. They came up with the idea that they wanted to tell a story through time." A lot of work went into pulling off the assembly in such a short time. Ms. Waters said, "My students in African American Studies made the program our service learning project for February. For about three weeks we were focused every day in class, we had people doing art and putting together Bio posters, so we really wanted February for Wakefield to look a little different than what we've seen before. They wanted to make a big statement."
The chorus started the show off by singing Lift Every Voice and Sing.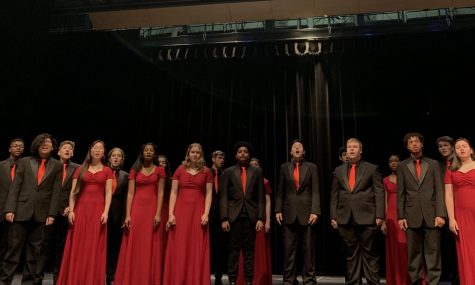 Then seniors Esinam Fynn, Victoria Matuli, Alyssa Scott, Brianna Alexander, Jenny Zarakpege, Cahil Redding, and Cavour El Mounir Junior Ndam took us across the globe with a West African dance. Esinam and Jenny choreographed the entire dance themselves! A member of Africa Club, Jenny Zarakpege said, "West Africans finally got represented, because during the Heritage Assembly it's usually just East Africans."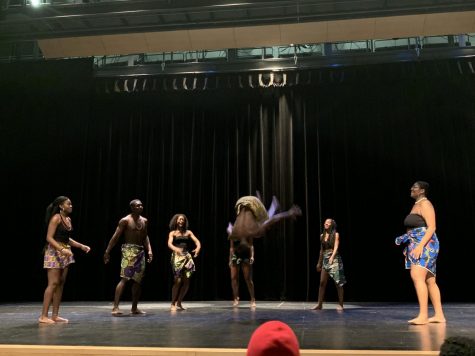 Following the outstanding dance, the chorus made a second appearance singing Wade in the Water. This gospel song was used to send a message to escaping slaves, telling them to hide in the water so slave catchers' dogs couldn't track their smell. After the chorus' moving performance, the band came to the stage and played a jazzy song to bring the Harlem Renaissance to life.
Next, Senior Araiya Mitchell stood on the podium to share an original and emotional poem. The poem centered around the Black Lives Matter movement. Leaving the audience in awe, Araiya walked off stage and the projector came down. A video of Martin Luther King Jr. delivering a speech began to play. About half way through, Junior Jason McPhee walked on stage and began to recite the rest of the inspirational speech, I've Been to the Mountaintop.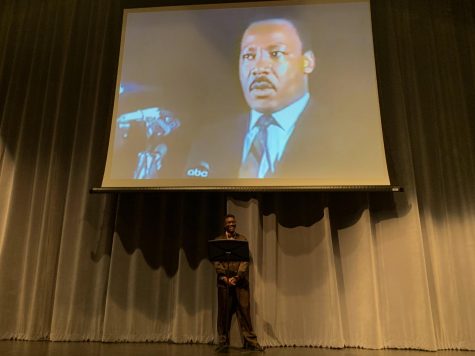 Shortly after, senior Marwan Mohamed put together a beautiful six minute video showcasing the Civil Rights Era. Marwan said, "I think there's a lot more of black history that I wasn't able to capture in a six minute video, but I'm happy with how it turned out."
Following Marwan's video, watch it here:
Marwan Mohamed
Senior Soussou Kallel did a beautiful rendition of Rise Up with Senior Oliver Gaither on the keys.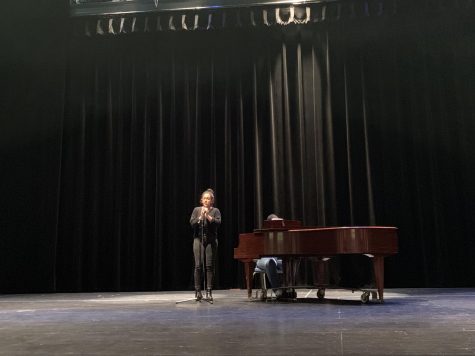 Immediately after, Oliver had to switch gears from Duke Ellington to former President Barack Obama. Receiving the speech only a couple days prior, Oliver did an excellent job as he recited Obama's first speech as President. Once Oliver finished his speech, you could hear a pin drop. Then, a roar of applause filled the auditorium.
Everything came full circle when Seniors Brittany Mullin, Victoria Matuli, Brianna Alexander, Esinam Fynn, and Junior Alyssa Moton wrapped up the show the way it started, with an amazing dance. Choreographed by Brittany for her senior project, the dance featured iconic songs through time, from Motown to Beyonce. By the end, the crowd was on their feet dancing along, perfectly wrapping up the incredible assembly.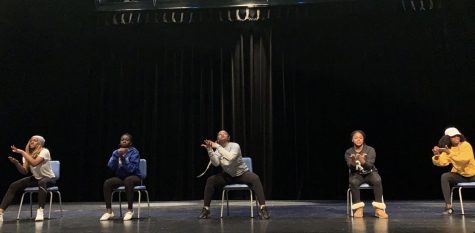 Overall, the assembly definitely had the intended effect. Ms. Waters said, "African American History is American History. Everyone could see themselves in it, they have either loved an artist, a film, a person who is a part of American History, not just Black History. It's that taking away the stigma, we shouldn't be separated because it's all of our full story. These assemblies help us have unity, empathy, and see that we're not so different." Students hope that this assembly continues. Senior Kaylah Gillums said, "We're happy that we got this done, we hope it's an annual event, and we'll be more than willing to help the next group."
Underclassmen, let's make this a tradition! It's never too soon to start planning for next year. While Black History Month is coming to an end, let's continue to celebrate black excellence!
Leave a Comment
About the Contributor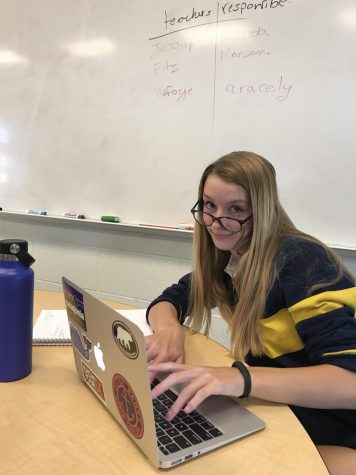 Grace Jones '19, Staff Writer
Hi, I'm Grace! This is my first year on the Chieftain and I'm a senior. I like to play soccer, walk my dog, and eat chimichangas. I like writing about...