County Wide Volleyball Championship Held At Wakefield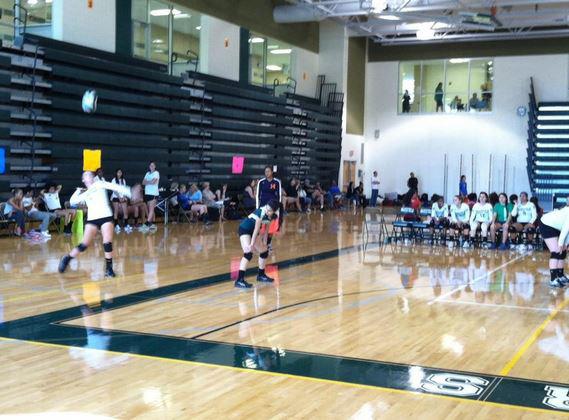 Wakefield had the privilege to host the 2014 Invitational Tournament on Saturday September 6th, 2014.
Teams from all across the region came to compete. In total, 7 teams: Wakefield, West Potomac, West Springfield, Park View, Maret, W.T. Woodson, and North Stafford all participated in the tournament.
Emma Burd, co-captain of the varsity volleyball team said, "we went into a lot of intense practicing with not just skill practice, but a lot of conditioning and a lot of mental practice to ensure that we were focused and in the game."
Varsity Coach Bradley said she was impressed by her team and might be considering a change of lineup to play to the players strengths. She was overjoyed with their performance and improvement in the last 3 weeks.
Many came to support varsity during their games, including the freshman volleyball team, and some JV players.
In the end, West Springfield beat W.T. Woodson for a first place victory 8-4. Maret had to fight West Potomac to win 3rd place. The final matches of the tournament were nail biters indeed.
Overall, the first county wide tournament that Wakefield held in our new gym was a great learning experience for the team.
Remember to go out and support our warriors! Here are some games the co-captains said you don't want to miss: Yorktown on 10/9/14, Washington Lee on 10/16/14, and the final home game on 10/27/14. All games start for Varsity at 7:15pm.