Boys Varsity Soccer Starts Season Slowly
The Boys have high expectations this season; their main goal is to prove that last year wasn't a fluke. They want to make it to States for the second time. How are they going to do it? Setting goals. Setting goals can be an overwhelming and necessary process; goals will challenge you to commit to work to get what you want. 
The Boys went to States last season, but the season did not go as well as they hoped. Wakefield Varsity Soccer vs. Albemarle State was an intense game, despite playing well the team was not able to make it to the next round and were knocked out. Senior Oscar Lopez said, "It took a lot of work to get there and will require us to focus a lot more in practices this year."
Last season, the Boys played well and had a better season than the year before. It is because of the way the team came together at the start of the season. Senior Oscar Lopez said the qualities that are most important in order to have a successful team are "we need our players to be focused during practice and actually take it seriously, we have to get a mindset of actually wanting to go to States."
This season has had a slow start.
The first game was at home against Washington-Lee. It was their 3rd time on the field this season. (The scrimmages were one win and one tie.) It was exciting action, but the game did not go as well as they hoped. They had plenty of opportunities that could have changed the score, but they conceded three goals and lost to our cross-country rivals.
The second game was against Yorktown. The Warriors started the game well, scoring first. The goal came from freshman forward Hector Hernandez from a rebound shot and scored from about 6 yards away. Yorktown was able to score and tie it up. Then about 10 mins later, Yorktown took the lead with a shot to the corner from about 15 yards away. The Warriors didn't give up and created chances to score. Senior midfielder Oscar Lopez got his chance and smashed another hard shot low and into the net to tie the game up at 2-2.
The third game was at home against Annandale. The Warriors played well and came away with their first win of the season. The first goal came from a penalty kick when Oscar Lopez was taken down in the box and Senior Captain Cristian Pereira stepped up and scored. The Warriors went into halftime up 1-0. The second half was similar to first and around 15 mins remaining, the Warriors got their second goal and it was scored by junior midfielder Mario Hernandez to give the Warriors a 2-0 lead which remained the score until the end. Their third game was their first win.
This is the Boys season to show what they are capable of and hopefully reach the goals that the team has set for themselves!
Their next game will be away against T.C. Williams, Tuesday, March 19th at 4:30pm (T doesn't have lights.)
Make sure you go and support our boys playing.
About the Contributor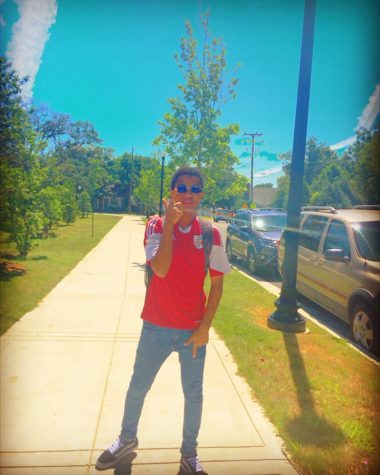 Ayansa Mergia '20, Staff Writer


Hey, my name is Ayansa Mergia and this is my first year in The Chieftain. I am a junior and I am 17 years old. I like to play soccer during my...