The Fake News Epidemic Isn't Disappearing Anytime Soon
Since the 2016 Presidential Election, the term "Fake News" has been used countless times. Scientific American magazine estimates that the phrase has had a 350% increase in public usage. The magazine also points out that both sides are equally able to consider fake news legitimate, so long as it is consistent with their ideologies. Taking this into consideration, how do you know if something is fake news?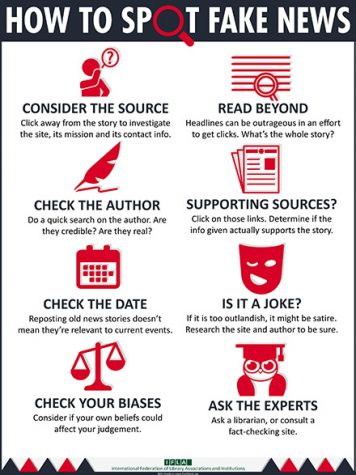 The IFLA and many other organizations are providing tips on how to spot fake news, in the graphic shown above, the IFLA points out 8 of these ways. Not only do you have to consider the source, but you must also check your biases if you are more likely to lean to liberal or conservative commentary. Organizations such as Allsides can be helpful to assist this, as their judgment on media political bias is based upon community voting.
Another program focused on fake news is Checkology, Ms. Hunt, a Wakefield Gov teacher about how she utilizes it, "I embed Checkology lessons into every unit I teach, as do many social studies teachers at Wakefield. Democracy depends on an informed citizenry, so it makes sense that Wakefield students graduate with solid news literacy skills." More information can be found in our previous article about Checkology, here.
Over the years, there have been plentiful amounts of fake news published in the mainstream cycle, some even unbeknownst to us.
At the 'March For Life' rally this past January, Covington Catholic high-school students lined up at the Lincoln memorial awaiting their buses home. A group known as the 'Black Hebrew Israelites' who had been at the site prior, started hurling insults at the students. The students then interacted with the group, later starting a pep-rally chant in an effort to drown out the Israelites. This attracted the attention of a group of Native American protesters, who had also been hosting an event that day. Nathan Phillips, an elder of the Omaha tribe, had led his group into the crowd of Covington students, chanting the inter-tribal "AIM song". Philips then came face-to-face with high-school junior Nick Sandmann, who smiled when the group approached him. When a video clip of the confrontation went viral, Sandmann had then been ridiculed by numerous media outlets, celebrities, and congresspeople for what they deemed "racist behavior". Sandmann launched a $200M lawsuit against CNN, the Washington Post, and many more for their misleading coverage of the incident. The Washington Post apologized as a result of this. A 14-minute summary of the event can be viewed here.
Lara Logan, a former CBS correspondent who left the network in late 2018, criticized media outlets on partisanship in an interview with podcaster, Mike Ritland; "Although the media has always been historically left-leaning, we've abandoned our pretense, or at least the effort, to be objective today … That means we've become political activists in a sense and, some could argue, propagandists — and there's some merit to that."
In January 2017, Fox News had reported on Twitter that the suspected shooter of a Mosque in Quebec was of Moroccan origin and had recited the Takbir while carrying out the attack. However, the perpetrator was later to be revealed as a white French-Canadian student. Fox did not issue an automatic public correction, but when asked by Canadian Communications Director, Kate Purchase, to do so the organization deleted the tweet from their profile.
The 'Fake News' phenomenon isn't something new; possibly one of the biggest examples is the case of Richard Jewell, a security guard at the 1996 Summer Olympics who had discovered three pipe-bombs in an abandoned backpack. Jewell alerted police and as a result, saved the lives of many attendees. However, several media outlets had reported that he committed the bombing, tarnishing Jewell's name.
Despite many fake news incidents get resolved in lawsuits, the effects are unfortunately permanent. The viral video of the Covington students was viewed 2.1 Million times on Twitter alone, not counting air time or other social media sites. According to The New York Times, there were 10,300 individual fake news incidents on Twitter during mid-2016. The Times has also noticed a considerable spike in fake news during election season. Knowing this, we should be on the lookout for fake news during the 2020 election.
Fake news is not going to disappear anytime soon, and the age of technology is only going to increase the virality of misinformation. As a result, we should further educate ourselves on the subject of fake news, and do the best we can to minimize its effect as much as possible.
It is never too late to start.
Leave a Comment
About the Contributor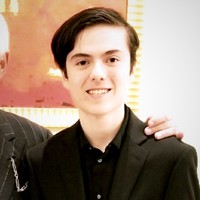 Zach Saltos '19, Staff Writer
Hi all. My name is Zach, and I am a senior currently on my first year of The Chieftain. I earned a B.A. Degree in Procrastination from the University of...