How To Stay Comfortable and Fashionable This Spring
Spring is here! Say goodbye to cold Winter weather, and hello to fresh Spring fashion! The warmer weather can get you excited to change into a lighter wardrobe, but unfortunately not everything in our closet is school appropriate. Luckily, we've got some tricks and tips to staying cool this Spring.
Maxi dresses
One of the best pieces for Spring is a long flowy maxi dress. To give it more of a Spring vibe try using a floral print, spring colors, or a dress with lace. If dresses aren't really your style, rompers are a great alternative! Some rompers even look like dresses, with a tail of fabric on the back and shorts on the front. With any of these choices, a pair of cute sandals would go perfectly. Pair it with some of your favorite jewelry, and top it all off with a fun floppy hat!
Accessories
If you decide to wear something on the more scandalous side, there's always a way to make it more school appropriate. For example if you decide to wear a crop top, you can pair a tank top underneath so you can still look stylish! If your favorite skirt violates the "finger tip" rule, no worries! Adding some cute stockings or tights is a perfect touch. Lastly, if you're wearing a mini dress or something more on the shorter side, throw a long cardigan on. Throwing a cardigan over a tank top also works!
Capri shorts
Capri shorts have been super trendy lately and are 100% school appropriate. Fashion Nova has the best variety of the carpi shorts in many different styles. Paired with a cute short sleeve polo would be such a look, or even with a thin fabric button down blouse tucked into your carpi shorts! Since Spring can have chilly days, you can also throw a light sweater over your outfit or a long sleeve t shirt. With your favorite sneakers, this is a great casual look to keep you comfortable in school.
These are just a few tips and tricks for this Spring! The goal is to stay cool and comfortable in the most fashionable way. Stay fashionable warriors!
Leave a Comment
About the Contributor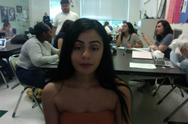 Kimberli Tellez '20, Staff Writer
My name is Kimberli Tellez. I'm eighteen years old and I enjoy fashion and all the latest trends. I love to go shopping and spent time with my friends....