Artists Among Us
Wakefield is full of talent. From our dedicated athletes, to gifted thespians- we have it all! One of the many talents that often goes unnoticed, is our artists. The Chieftain decided it's time we shine some light on these extremely skilled students. Here are just a few of Wakefield's amazing artists!
Senior Cambria White
Cambria has been into photography and mixed media since her freshman year. Back in 10th grade, Cambria won the gold key for a mixed media piece in the Scholastic Art and Writing competition. This year, she won the silver key for her piece titled "Abby."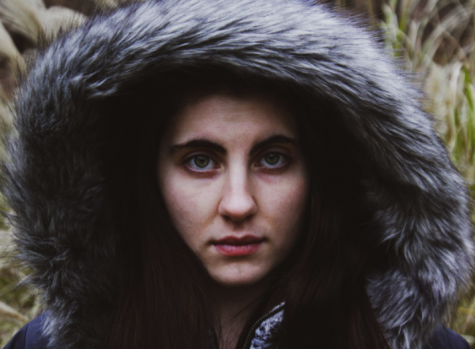 Cambria was taking pictures with her friend, not planning to capture this award winning photo. She said, "I told her to stand in front of this plant. I thought it would look pretty cool with her eyes, and it was cold so I told her to put her hood on. It wasn't really planned!" Some of the best art isn't scripted.
Sophomore Carmina Lopez
Carmina has been in love with art ever since she can remember, she said, "when I was younger my mom read that you should always bring drawing materials and a sketchbook everywhere you go, so pretty much that was all I was allowed to do in my free time. My mom definitely [sparked my interest for drawing with] her appreciation for the arts, she bought us a book about Pablo Picasso, and I remember thinking I wanna do that." Inspired by the Masters, Carmina's art reflects her individuality.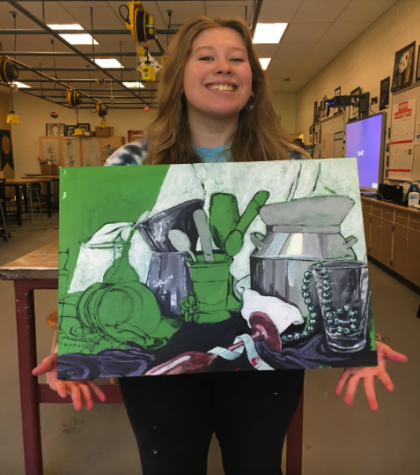 Carmina's talent does not go unnoticed, she won a gold metal for her painting in the National Scholastic Art Awards (pictured above).
Oliver Bullington- McGuire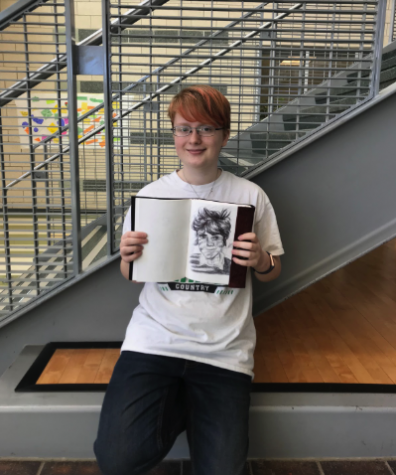 Oliver has had a passion for art ever since he was young. Oliver said, "I was always the kid who doodled on everything and got in trouble for it." He plans on continuing drawing, he said, "Im planning on going to art school, I just want to build a career off it because its something that I'm really good at." There is no doubt that Oliver has the talent to go far.
Senior Carlos Lemus Acevedo
Carlos won a gold medal for his piece titled "What Remains." He said, "my inspiration comes from the weirdest places. I was going through a weird patch in my life you could say. So my whole project has to do with memories and that's why I titled it 'What Remains', how like each memory we have is partial regardless of how much you remember, you're never going to remember the whole thing and all the exact details." Wow! Carlos! 
Although Carlos is a wonderful photographer, he's done a little bit of everything. He said, "I've always done different types of [art]. I used to paint when I was little, I've done photography, I also do performing arts, which just combines [everything]. Last year, at the end of the year, I was just like I don't want to choose one, I want to do them all at the same time and I'm gonna do it. Then, I did." Yes, you did.
Junior Willow Boswinkle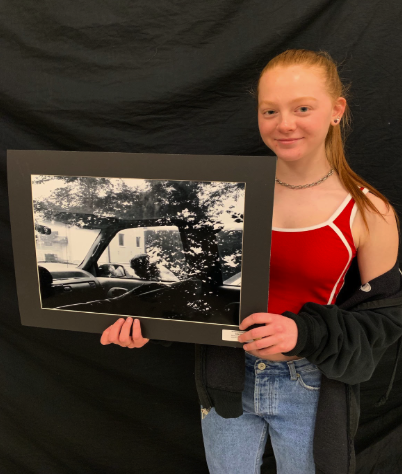 Willow has been taking Photography since her freshman year, and hopes to continue with it for the rest of her life. She said, "I really enjoy taking photos of people and one of the things that inspires me is seeing their reactions to the photos of themselves."
The talent that these artists have is incomparable. The future is bright for these shining stars.
Leave a Comment