Sophie's Superfan Survival Guide
There is no better feeling than watching the clock count down at a winning home game surrounded by Wakefield students. It's the beginning of a new school year here at Wakefield, which means it's time for the Superfans to come out and support Wakefield Sports! Superfans are the students who take tremendous pride in Wakefield and it's athletics; go to home games, cheer, yell, and support our school. Being a superfan is a huge part of having a fun high school experience, and here are the ways you can come out and support the right way:
Do the color outs! Follow @whssuperfans on Twitter and Instagram to stay updated on themes for each game. It's important to represent Wakefield by doing the color outs, and make the student section bigger and better.
DO NOT cheer during offensive plays (when WAKEFIELD has the ball). During offensive plays, the team needs to focus and know when plays are being changed and the team cannot focus or hear over us. When they make a touchdown, field goal, or first down, yell and scream as loud as you can. BUT, when offensive plays are starting, its important to let the boys focus. Quarterback and senior Cason Poythress said, "My players couldn't hear me in the huddle when I was calling plays. I love the Superfans. They keep the whole team in the game."
If you sit with the superfans, do not bring the team down! It's important that all the superfans are cheering on and supporting the team rather than booing them if a play doesn't go as planned. If you boo players on the team, you are not a SUPERFAN. You can go sit with the opposing team's fans. How would you feel if you got a C on an assignment and everyone booed you for it in class.
Underclassmen can be superfans. Yes, the seniors do dominate the games and claim the front seats; however, all grades are wanted. Doesn't matter if you are a freshman, sophomore, or a junior, you are welcomed and encouraged to come and sit with the superfans and help cheer the team on!
Follow the cheerleaders! When the cheerleaders start a chant, follow them. When they start a chant, go with them not against them. Help hype them up, don't speed up the cheers they worked hard on.
Lastly, just show up! Even if you are unable to do a color out or can only come for half the game, show up anyway! Students show come and sit in the student section whenever they can, no one grade or group dominates the section everyone is always welcomed! Come out and show our team the support they need.
School Spirit is something we have a lot of at Wakefield. There are games constantly going on at Wakefield so you have every opportunity to come out and take a break from your overwhelming load of homework. Many student athletes admit that they play better the more people are cheering them on, so it's important to let them know how much the student body is supporting them.
The superfans are a family here at Wakefield. Games are a time to unwind from schoolwork.
Come out and show your Wakefield pride! The themes and dates for upcoming football games (Football is swag.) are:
9/20 away at Washington-Liberty: Space out
10/04 home against South Lakes: Beach/Tourist out
10/11 home against Edison (Homecoming game): Black out
10/18 home against Lee: Pink out
11/08 home against Marshall: Pajama out
Make sure to follow @whssuperfans on Instagram and Twitter to keep up with the themes in case of changes. Turn on post notifications, spread the word, invite your friends. And to keep up with fall sports, click here for the Wakefield athletic schedule. Being a superfan is so much more than just going to the games. Superfans stand up, cheer and yell, dress out, and they make sure everyone around you is included. It's so important for everyone to feel welcomed at all the games. Everyone at Wakefield has a place as part of the superfans, show up and show out Warriors!
TONIGHT'S GAME AT WASHINGTON-LIBERTY IS A SPACE OUT! #warriornation
Leave a Comment
About the Contributor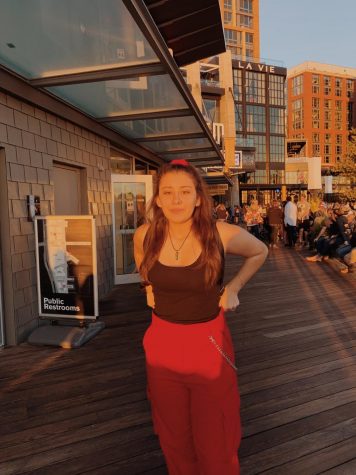 Sophie Hott '20, Features & Lifestyle Editor
Sophie Hott is a senior at Wakefield this year, and this is her 4th year on The Chieftain. This year she is the Features and Lifestyle Editor. If she isn't...