4-0 For The First Time In School History
The Warriors defeated the Edison Eagles last Friday night to become 4-0 this season. According to Wakefield's announcer and statistician, Frank Haddock, this is the first time in school history that the VFB team has had this record.
Wakefield won 2 games at Edison back in 1998 when coach Wayne Hogwood was the quarterback. Now, 16 years later, the Warriors have come full circle, and won against Edison with Hogwood as the coach.
Two year Freshman Football Manager Nate Oney practiced throwing the football on the track today and said, "the way they practice is more intense. That's why they win. They deserve what they're earned because they worked for it."
After the 4th win, 6 year Wakefield Coach Rado explained how the team got the wins. He said, "we scored more points than the other teams."
Junior running back LeonYoung made the first touchdown of the night from the 3 yard line. A kick for an extra point by Reyes. "It was a slow start and defense kept us in the game, but after halftime everybody came to play and we got the job done" said Young. The score remained 7-0 at the starting of the second half. Running back Chris Robertson made the second touchdown to increase the score to 14-0.
Edison finally put some points on the board with a touchdown, but the extra point was no good. Young, with a 64 yard touchdown, and a good extra point to the scoreboard to 21-6. Junior Anthony Tham ended the third quarter with a memorable tackle.
During the fourth quarter, flags rained down, but the Warriors held on tough and played through til the end. The final score was 21-6, #WarriorNation. Senior Luis Mulero said, "Hogwood is motivational. He is the best coach I've ever had, and I've had a lot."
"We are proud of ourselves for making history…and being 4-0, we hope to continue this and win even more games" said  Young.
Varisty will be at Hayfield High School on Thursday, October 2nd at 7:30 pm. The Freshman and JV teams play at home against Hayfield on Wednesday, October 1st at 5:45pm and 7:30pm respectively. 
Come out and support @WarriorGridiron, #WarriorNation.
View Comments (1)
About the Contributor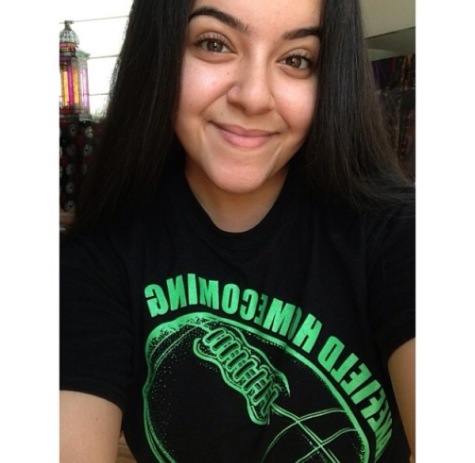 Sanaa Elkalibe '15, Sports Editor
My name is Sanaa Elkalibe; I am a senior! I'm on the varsity cheerleading and softball team. Wakefield is home and I enjoy every single thing about it!...