Varsity Football Looks to Clinch Conference
Headed into Falls Church Tonight, Friday October 25th, our Boys Varsity Football team continues to roll through the competition in conference play. Coming off of a two game winning streak, the Warriors have solidified their foundation on the turf. The first win of the streak starting on Homecoming Night when some people said it was a mistake to play Edison on Homecoming night. Wakefield winning on that special night, 22-14 gave the players the momentum to beat Lee, 46-20 on October 20th.
Staying on the right track can be the decider in most games; players and coaches adapting to each opponent is key. The Warriors are going up against a tough Falls Church team; How have they adjusted their plans to face the Jaguars? Wide Receiver #24, Lukai Hatcher said, "in practice we've been working on getting our defense and adjusting to their formations because they love to catch the opposing defense off guard." Recently getting a position change to a Run First Safety he added, "I've been trying to adjust to the defensive position change." This switch opened up a mix in the lineup, allowing more players to get involved.
Senior Isiah Mefford has had 6 or 7 touch down in the last 2 games. He is a force on the field. He said, "The last few games we've been picking up as a team, on the field and off. It feels like we finally figured out how to come together and play as a single unit. I'm excited to see just how well we can do as a team going forward." Each and every game counts; being consistent with each play always results in a win.  Our Wakefield Warriors are 2-0 in the conference, and getting the victory means they will remain undefeated. Lukai said, "We just have to stay focused and limit our mistakes…we just have to make sure we are on point." Staying mentally tough in a team sport opens up the door for unlimited opportunity.
The team has not lost sight of what's important, staying grounded and knowing how to finish is more valuable than the start. Chris Wilson Jr #6 said, "I stay motivated by my faith and my test in my team mates." Our Warriors are 3-4 going into this game, looking to become 4-4 overall, and staying undefeated in the conference, 3-0. A lot is on the line.
Leave a Comment
About the Contributor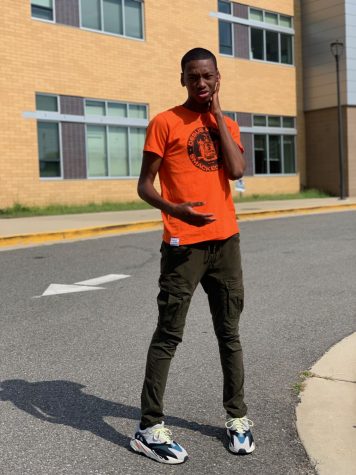 DeAndre Parker '20, Staff Writer
DeAndre Parker is a Senior in the class of 2020. He loves to play basketball, and to study the game first hand. In school he enjoys science courses, previously...