Inclusion Lives at Wakefield
"Here at Wakefield,  inclusion means that nobody feels left out based on their gender, race, or their abilities…we all are warriors as one" said Ms. Araujo one of our MIPA teachers. We interviewed her to see how she has helped to bring Inclusion to Wakefield in the short time she has been here.
On October 2nd, a mix of our MIPA, life skills, and general education students all headed to Kenmore Middle School to attend the Arlington County Feet Meet sponsored by the Special Olympics. There were many activities for the students, such as big bowling and a cool photo booth station.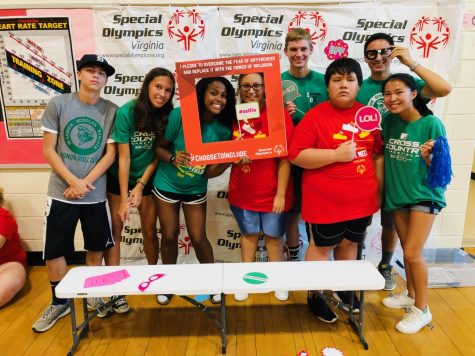 As homecoming week approached, students in every grade voted for homecoming court. Our very own Cory Miller was voted homecoming king, here is the first moments of the final dance.
The Wakefield Best Buddies Club went to the Friendship Walk in DC last Saturday.

There are many upcoming events that our students get to work together in. The last two Special Olympics soccer games were this Saturday, October 26th at 11 am and 1 pm at Paul VI High School.
Want to join the Inclusion Revolution? Basketball season is starting in November; our Special Olympics team is excited to play. Talk to Ms. A in C-238 with questions or to join the Special Olympics Basketball team.