Four Wakefield Warriors Zoom Through "Drive Like a Girl" Competition
Four of our stellar Wakefield students were awarded $2000 for winning second place in the annual "Drive Like a Girl" competition sponsored by Audi and STEM for Her. These senior girls, Andrea Gaoat, Ela Gokcigdem, Moada Mohamed, and Natalia Uro-DeLeon, designed an innovative STEM proposal for the automotive industry in six weeks and then presented it at the Audi Headquarters last week.
The competition showed that nothing, whether it be gender or any other factor, could stop them from pursuing their passion. Moada said, "Our mentors were young women in pretty high positions in the company so I felt super encouraged. It was eye-opening to see that and it showed me that if I wanted I could be one of those employees."
This year's competition was centered on coming up with ways to interest the younger public. The team focused their proposal on appealing to one of the passions of adolescence: sustainability. Moada said, "We believed that in order to excite the younger generations about this new fully electric vehicle, we had to address their passions like climate change, and activism in general. We wanted Audi to take an approach that showed their commitment to sustainability and trying to better communities."
This is the second year they got 2nd place at the competition. Moada said, "One of the judges mentioned that she was in a meeting about sustainability three hours before the judging. It shows that this idea was so relevant to the point that it was that day she was in a meeting talking about it." 
The team's valuable experience has shaped their outlook on work-life and trying to solve real-world problems. Moada said, "It showed me how much thought goes into a real company. You can be at a car company and you'll need to have photographers, graphic designers, a legal team, and car engineers." The team discovered the importance of different fields collaborating and that there are a wide range of employers for all types of occupations.
We are so proud of our Wakefield Warriors and their accomplishment! By earning second, these girls have earned money that will be put into a fund for girls pursuing their dreams. They have helped future students get closer to attaining their goals, and that in itself is something to be proud of.
Leave a Comment
About the Contributor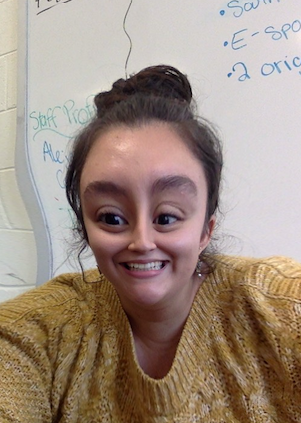 Carla Barefoot '20, Co Editor-in-Chief
Hey guys; I'm Carla. I'm a Co-Editor in Chief on The Chieftain and this my third year in journalism. I like to listen to all different genres and languages...