She Kills Monsters: The Spotlight is on Tech!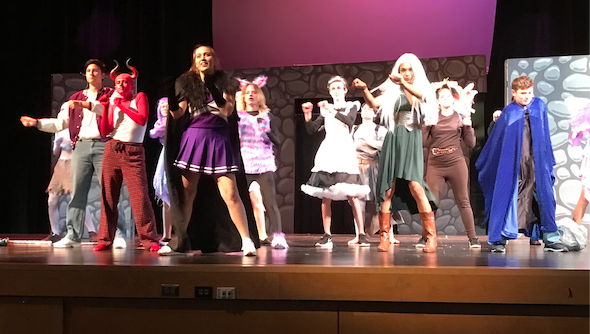 Today and tomorrow, as well as the next Friday and Saturday, the dramedy She Kills Monsters will be performed in the auditorium at 7:00pm. The actors went through plenty of rehearsal to make a great show, and they aren't the only ones who work hard. After school, the technical crew (known as Tech) constructed and painted each scene, designed costumes and props. On show nights, they handle soundwork, lighting, and take care of transitions between each scene. They are the framework that the play is performed around.
After receiving the script, one of the first things that Tech handles is constructing supports and rigging for the scenes. While that is happening, costumes and props, as well as art directions for the scenes, are being planned out. Renee Whiffen, the art director, decided to join and stay in Tech to "have something art related afterschool" and to "paint the big pieces" in each show.
Tech can be found in the sound booth, on the balcony, and offstage. The sound booth handles playing songs and sound effects throughout the performance, as well as major lighting. The people on spotlights keep track of the actors on stage during important scenes to make their preformance stand out even more. Offstage, the run crew is waiting on the sidelines to run on stage, set the next scene, and remove props onstage to keep them out of the actors' way. Tech is also responsible for last minute fixes on costumes, makeup, and technical mishaps. All of this work is done right on the sidelines of the stage, just out of the audiences' view. It can get really crowded.
Tech and the actors are all family. Working together, they make the plays at Wakefield stand out; "The most memorable experience that I've had was during my first show, In The Heights, doing warmups with the actors. They were screaming, jumping up and down, and dancing" said Nina Micheal, one of the Stage Managers. It may be a bit hectic at times, but everyone enjoys being a part of such a big and wonderful performance.
Curtains open at 7:00pm on December 6th, 7th, 13th, and 14th. You don't want to miss this, Warriors!
Leave a Comment
About the Contributor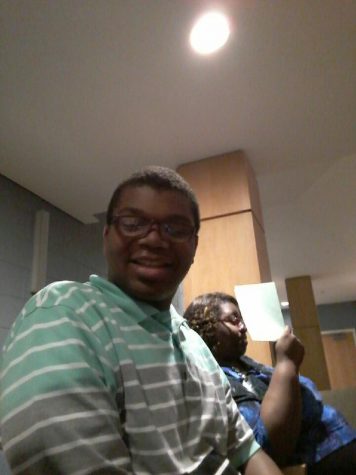 Jonathan Stewart '21, Staff Writer
My name is Jonathan, and this is my first year on The Chieftain as a junior. I enjoy writing personal stories as well as preforming in theatre. I'm excited...