Gymnastics Season Springs into Action
Gymnastics has officially started and our Warriors are gearing up for competition. The team has had two meets, and are defending their Conference Championship title. They have set high goals and plan to continue rolling through their opponents.
Now that last year's seniors have graduated, the game plan has changed along with the team. Junior Sophie Gamboa said, "We've got some big shoes to fill now that the Class of 2019 is gone, but this year we're focusing on getting consistent and gaining some experience for our new girls. As we get to the bigger meets, like Districts and Regionals, [we] plan on pulling out some harder, higher-scoring skills to help our team score." 
Despite having the pressure on their shoulders from last year, the girls make sure to have fun at every competition and not stress too much. Senior Alejandra Galdo said, "The teams in Virginia are pretty competitive and so we always try to just have fun with the competitions and not put too much pressure on whatever score we get at the end of the night."
While the members continue to put in hard work and practice into this intense sport, at times the team feels the challenge coming from the fact that they are a smaller team this year. Sophie said, "Last year we had three seasoned high school gymnasts and three club competition gymnasts joining the team. However, this year we are still working to fill the four competition scores necessary for a full team score. We're close though, so I'm excited for a competition when we can bring it all together." 
Aside from learning about a new sport and gaining some experience, gymnastics competitions are also a great way to find new friends and bond. So to anyone interested in joining, whether you have experience or not, consider joining the gymnastics team next year. Get involved now, go to the meets and root for our Warriors.
The team's next meet is today, Wednesday, December 18th at South County High School. So come out and support these fantastic flying Warriors! 
Leave a Comment
About the Contributor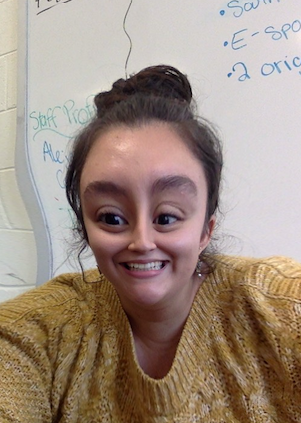 Carla Barefoot '20, Co Editor-in-Chief
Hey guys; I'm Carla. I'm a Co-Editor in Chief on The Chieftain and this my third year in journalism. I like to listen to all different genres and languages...