Three Things to do to Celebrate the New Year
When 2020 comes around, you need to get the mood started right for the new year.
From now until January 1st, the National Zoo is hosting Zoo Lights around the park. The best part is admission is free! Although the animals will be sound asleep, you can still come and walk around with friends and family and watch the LED lights on zoo animal exhibitions. Every night they have a festive live performance, if you decide to go on January 1st, you might just get the chance to see Joyous Voices Quartet perform live.
This one is kind of similar to the Zoo Lights, but not really. At this attraction you get to drive through a 2.5 mile road decorated with festive LED lights all through out until you get to their "Holiday Village". Once you get there, it's a whole carnival where you can buy tickets and get on rides and enjoy carnival food! They even have a fire pit where you can roast marshmallows and keep warm. Overall, the best part of Bull Run is that they offer camel rides for just eight bucks! What better way to kick off the new year, than to riding some camels.
Fun Land is always something that has been in the back of my mind as something I want to do. The new year is all about doing new things you've never done but always wanted to do. This place has always been so fascinating to me with 100 of the most popular arcade games, bowling, roller coasters, and rock climbing. Not to mention they have go karting. There is just so much to do at Fun Land. This is something I for sure want to try out for the new year.
No matter what you decide to do to start off the new year, make it something adventurous because you need to make it worth it. This will be the first thing you do in the New Year.
Leave a Comment
About the Contributor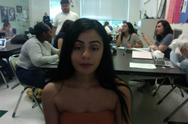 Kimberli Tellez '20, Staff Writer
My name is Kimberli Tellez. I'm eighteen years old and I enjoy fashion and all the latest trends. I love to go shopping and spent time with my friends....