Emerging Star is a Piece of Heaven: Nevaeh Wallace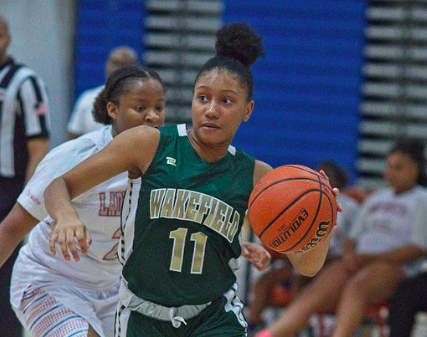 Our Girls Basketball team should be proud of all they have accomplished this season. They are in no way done, but with the new year comes reflection, and their reflection is sparkling.
A lot of the team's success comes from the seniors. They have been here all 3 (or 4) years, and make sure to get the ball down the court. They have seen a lot of change, and play through all of it. Fans in the stands talk about the great plays and points on the board, and a lot of the times, fans are talking about junior Nevaeh (Heaven spelled backwards.) Wallace; she is an exciting player. She is an electric force on the court for Varsity Girls Basketball.
Nevaeh started playing before she even attended Kindergarten. I have been "playing since I was 4." What makes her such a valuable player on the court?  I give good passes to my teammates." What does she enjoy the most about playing with Wakefield Varsity Girls Basketball? I love having my friends on the team, and the atmosphere."
Girls play Justice tonight, 1/21, at home. Freshmen at 4:30, JV at 5:45, and Varsity at 7:30pm. Here is the schedule for the rest of the season.
Leave a Comment