For "Nacho" Average Valentine's Day
Valentine's Day is here, and whether you have a significant other or not, here are a few ideas on what to do this Friday night!
Make a Quick Buck
If you don't plan on going out on Valentine's Day, someone else around you with kids probably does. So why not babysit for your neighbor or relative for some fast cash? It's much better than just sitting at home making no money. You might as well sit at somebody else's home with someone else's kids and make some money.
Or, you could simply do it out of the kindness of your heart and not get paid for it, since Valentine's day is all about being loving and kind to one another.
Try Something New
Try something new that you've never tried before, for example real authentic Mexican food. I highly recommend  "Tortas Y Tacos La Chiquita". They have the best tacos and several Mexican dishes and desserts to choose from at a very reasonable price.
If you're not feeling Mexican food, then take your significant other to try foods from a different culture.
A Night in: Pizza and a Movie

On February 12th the Netflix film, "To All the Boys: P.S. I Still Love You" was released. Watch this with your significant other. If you did not get the chance to watch the first movie, "To All the Boys I've Loved Before", I highly recommend watching it first. Not only is it romantic, but it has that classic high school drama twist to it, which makes it fun to watch.
Papa Johns is also offering a heart shaped pizza for only $11, the perfect addition to your movie.
Grocery Shopping
Unsurprisingly, every restaurant will be fully booked on Valentine's Day, so why not be your own chef. Take a trip to the grocery store with your bae and browse the aisle while looking for ingredients to cook your favorite meal. Once you get home, set up the dinner table, get to cooking with your significant other, and have fun.
The things to do on Valentine's Day are endless! Thankfully it lands on a Friday so if you don't get a chance to do anything on that Friday, you have the three  day weekend. Whether you are in a relationship or not, be sure to make this Valentine's day a lovable one!
Leave a Comment
About the Contributor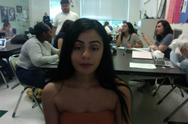 Kimberli Tellez '20, Staff Writer
My name is Kimberli Tellez. I'm eighteen years old and I enjoy fashion and all the latest trends. I love to go shopping and spent time with my friends....