District Championships are Decided Tonight
A lot is on line coming into Friday night; this is our Wakefield Boys Basketball District Championship against Edison. It is at Edison at 8pm. This will also determine what placing the team gets going into Regionals. Either way it goes, our Boys Varsity team is ready.
For most of the team, this is their first time being in a championship in a Wakefield jersey. Senior Aaron Queen knows what the atmosphere is like. He was on the Varsity team during his sophomore year, truly experiencing Wakefield Basketball Playoffs. Aaron is full of energy for the District Championship; "my mindset is to give everything I got because it is my last year, and I really like my team mates, and I don't want to stop playing with them." He aims to keep working hard, because then the winning will come when you put everything you got into it.
Our manager, senior Julia Sonn, has been with the team for two years. The game tonight means just as much to her as the players, she cares for everyone on the team like a big sister. Julia said, "My experience as manager has been amazing, starting the season off by traveling to Utah really enabled the team to mesh and create an awesome bond that has lasted the whole season." Julia takes that extra effort to make sure everything is in order for practices and the games. She has noticed a lot of progress in the team and said, "It has been amazing to see how much the team has improved throughout the season. They have been working so hard to get to this point." Julia does a lot she does not get credit for, our managers are a part of the team just as much as our players.
Tonight our Warriors are looking to end the District Playoffs with a banner to hang in our gym. Be there early to get a seat over at Edison the game starts at 8pm.
Come support our Boys Varsity Basketball team tonight! It is a BLACKOUT!
UPDATE from 2/21: Our Boys are runners up in the District with a score of 84-64, Edison. Boys play in Regional action on Tuesday, February 25th vs. Oakton. Tickets are $3 at the door. Thanks, Boosters!
Leave a Comment
About the Contributor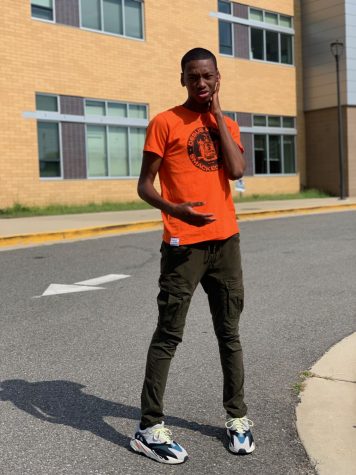 DeAndre Parker '20, Staff Writer
DeAndre Parker is a Senior in the class of 2020. He loves to play basketball, and to study the game first hand. In school he enjoys science courses, previously...