Track and Field's Finest Competed at States Friday: We Get Tips from Experts for Tryouts
 After a strong season, indoor track is coming to an end. For some Warriors, Track never really ends, though. They qualify for States, compete in States, and then go straight into Outdoor Track.
They are experts in the field, so we asked them for some tips on how to do our best at Outdoor Track and Field tryouts this week, Monday, February 24th at 3:45pm.
There are many events in Track and Field: high jump, discus, shot put, triple jump, long jump, relay, 300 meter, mile, two mile, and 800. It can be hard to decide what to do. Here are some tips from our State qualifiers:
Senior Isaiah Mefford qualified for States in the Long jump, Shot put, and the 300 meter events. How did it start? Isaiah said,"I started track my sophomore year, and freshman year I played Baseball. Track and Baseball are in the same season, so I decided to go with Track." How do you keep going? He said, "Sometimes you don't wanna get up on the weekend or on holidays for practice. Some days you don't want to run, but you gotta push through that and just do it."
Senior Faith Achugamonu also qualified for States in the Shot put event. What are her tips for excelling? She said, "Just stick with it, it's gonna take a while for your body to get used to the amount of physical activity, but also it's a mental game. So as long as you set your mind to it, you'll be able to continue." She also talked about how important a strong support system is; "it also helps to be surrounded by friends and coaches that will support you."
*Faith and Isaiah will compete at States on Friday, February 28th at Boo Williams Sport Complex.
Also, don't forget to join the Outdoor Track and Field team for their Spring season! Tryouts start today on the field at 3:45pm.
*CORRECTION: We misnamed a student competing at States in an earlier version of this article. Faith and Isaiah are competing at States for Indoor Track. Apologies.
Leave a Comment
About the Contributor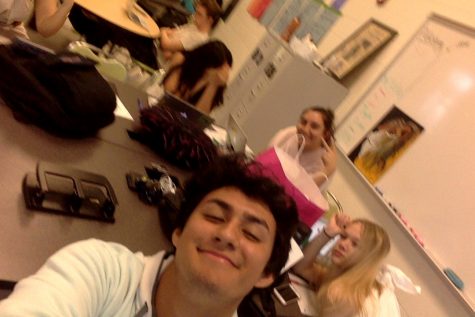 Luis Enrique Bronfield-Pinto '20, Staff Writer
My name is Luis. I play football. I am a senior and smiling. I like to laugh. Have a blessed day...