A Warrior's Ethos: Wakefield Wrestling Alumni Keep Taking it to the Mat
Our Wakefield Wrestlers leave it all on the mat. They put in that extra work to be their best. Like many athletes, their biggest fear isn't the team sitting across from them but an injury that could end their season and strip their goals away from them. I talked to two of our most recognized wrestlers, who have made history at Wakefield, about how they were able to come back from heart breaking injuries.
Many wrestlers know what it's like to be setback during the season. Wakefield Alumni Loranzo Rajaonarivelo Class of 2019 and Vincent Galang Class of 2020 have been through it all.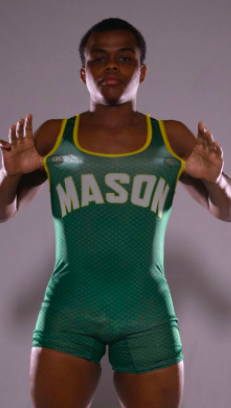 Loranzo capped off his season with a State Title, still hungry he had one more goal to attain, All American at NHSCA; "I injured my ACL and Meniscus my senior year of high school at Nationals during the Round of 16 Consolation Round, granted I wrestled through it in the blood round but my body gave up on me." No more than a year later Vincent got injured on his way to finish off his highschool season; "I got injured in the finals of the NOVA Classics when I landed wrong on my ankle in the first period…Osteochondral Lesion of the Talus, where I broke my Talus bone and completely tore off the cartilage." Both wrestlers had to find it in themselves to heal and return. It's a battle of will and discipline.
Loranzo's goal after winning States was to be an All American in the off season. "I believed wholeheartedly that year I would become an NHSCA All American."
Vincent's goal before getting injured was to finish off his highschool season with over one-hundred high school career wins and to "win States." Vincent said, "I tried to be the best teammate I could be by supporting whoever was wrestling and I tried my best to mentor whoever was replacing me in the lineup cause I wanted them to be successful as well." 
Loranzo had a lot to say about his heartbreaking injury that set him back in the off season. "Being honest the ACL and Meniscus injury was tough. Like tough, tough. This was the injury that impacted me mentally the most…I was hoping to have my last go around at Fargo Nationals and represent VA once again on one of the biggest stages in highschool wrestling." Loranzo and Vincent both qualified for the VA State Team in 2018, and represented Team Virginia at Fargo Nationals, the biggest epicenter for off-season highschool wrestling.
They also talked about what it was like transitioning from high school level wrestling to college level wrestling. "The transition has gone pretty good. It's much more intense than high school practices because everyone there was a stud in high school so you have to battle every single day" Vincent said. "But it's pretty fun being able to test yourself against some of the best in the country" he added. Loranzo said, "The college transition was difficult considering coming with a serious injury. Coming back was a struggle but I'm still restoring myself little by little. I adjusted well despite all that, my first college tournament I went 3-2 at the Southeast open during my red shirt year, against Division 1 and Division 2 opponents, and for not having an off-season to work on myself, I say it was a good performance." A red shirt year is when a college athlete takes a year off from the regular season.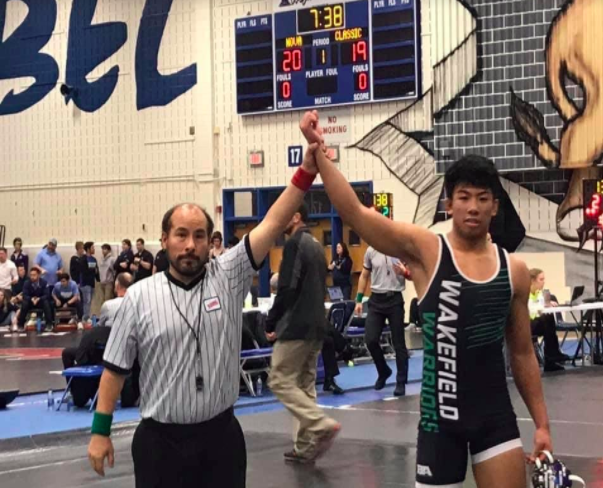 Now that our Warriors have made their way to wrestle in the collegiate level, they have new goals. Loranzo's goals are to be a MAC Champion (George Mason Wrestling Division), a NCAA Champion, a World Champion, and an Olympic Champion. He said, "for me to win the big battles, I have to win the small battles and that boils down to discipline. Marathon continues."
Vincent was pretty straight forward on his goals in college; "Have a 4.0 GPA, get my degree, and All-American in Wrestling. In that order." Loranzo and Vincent have definitely paved the way for many young wrestlers at Wakefield. They have both done the unimaginable. 
The future is very bright for Wakefield Wrestling and our Alumni. With conditioning starting in about a week, this is only the beginning.
Leave a Comment