How To Be Body Positive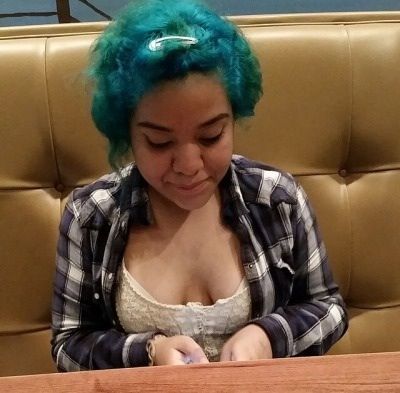 Many people in the world struggle to see the beauty in themselves.  For me, a young teenager, I have battled for years to become positive about myself.
When I was in 3rd grade, I would get bullied, a lot. I was frequently harassed about my weight, appearance and how I talked. I would be the chubby girl with the deep voice and huge stutter problem. I did have friends, but I still wasn't feeling good about myself.
Going to middle school I thought it'd be over, but in 6th grade I was picked on my weight as well. Once you get to middle school you feel the need to date and be attracted to people. People would talk about how I wasn't hot or cute, but these opinions were coming from kids who hadn't hit puberty yet. There was this one time in the girls' locker room when I was putting on my shorts and this girl took one glance at my legs and said, "you don't shave your legs?" She sounded so disgusted, and of course there I was being embarrassed, again. Of course that made me feel bad, who wouldn't feel bad? Someone shouting that, so loud, and girls surrounding you like they're about to take your soul.
7th grade. It stopped and I was shocked. Why did people stop making fun of me? I asked friends and they said I had changed. Of course I didn't lose 300 pounds, but I was not the gross lump that I thought I was. In 8th and 9th grade, I started to wear clothes I felt good in, and started to like myself a bit more.
How did I become body positive? Well I stopped putting myself down. I started to compliment myself and not worry about how other people saw me. Now, I didn't say, "damn Ma you look good!" I would say things that would get me through the day. I would say things like, "you look fine, don't let anything bring you down," small pep talk stuff that would make me feel like I could take over the world.  I know that I don't need to impress people who do nothing for me. As long as I feel happy, and good about myself, then nothing else matters.
That's one step to being body positive. Don't try to find flaws in yourself when you look in the mirror; ignore that. You have acne? Who cares! Everyone has acne; don't forget that. Everyone has to go through getting a little blemish.  It's a part of growing up; it sucks, but you have to deal with it. Don't let anyone make you feel bad for having something you can't control.
Another step? Wear clothes that you know you'll feel comfortable in. Walk like you're about to take over the whole wide world; the whole human race will bow down to your confidence. Being body confident will make you happier, healthier, and enjoy your life more.  Don't worry about how society wants you to look.
You look like you. You are the perfect you. 
View Comments (6)