Wakefield Grid Iron Update
We all know that Wakefield Sports have been pushed back due to COVID-19. There is an end in sight, athletes. Conditioning for a few sports started last week. Wakefield Football starts conditioning this Monday, October 19th at 5pm. 
Football is one of the biggest sports at Wakefield; players should be on the field right now practicing for the big Homecoming game this Friday night. The VHSL made the decision to push back Fall sports until after Winter Sports this school year. So the earliest our Football team will play in a game is February. Usually Football has a ten game season, then playoffs. Due to COVID, Warrior Grid Iron will only play a 6 game schedule with teams in our conference, then play in the playoffs. Along with the shortened season, there are some other changes. Coach Henning, our strength and conditioning coach, has taken a teaching job at Marshall High School. Replacing him will be Coach Francis, who also coaches Wakefield Lacrosse.
What have players been doing with this extended off season? Wide Receiver and senior, Izaiah Lang said, "This offseason has been a special one for our team. With COVID we haven't been able to do all the things we wanted to do, but we are still staying in shape and perfecting our craft. We've been conditioning, lifting weights, and doing field work all year to get us ready for the season in February. This pandemic won't stop us from performing at the highest level this season."
What will conditioning look like? Coach Hogwood had this to say about preparing for this shortened season; "football is actually last on the list at this point in terms of preparing for the season…It is hard to give a clear definition of conditioning. Basically, our main concern is always safety and the health of our coaches and players. We will try and build comradery amongst our guys and help them get physically in shape." 
To be part of conditioning, you must sign up on the wakefield athletics website. Do not wait to sign up since there are only 45 spots available. On the day of conditioning, make sure you are wearing your mask as you approach the field and keep it on until the actual conditioning begins. Someone will meet you at the gate and take your temperature and ask you a couple of questions. It is important that you bring your own water. After the conditioning has finished, you must put your mask back on and keep it on until you leave school grounds.
See you on the field in 2021, Wakefield. The first game is expected to be February 7th.  
CORRECTION: One of our players was misidentified in a previous version of the picture in this article. We have updated this information and apologize for the mistake.
Leave a Comment
About the Contributor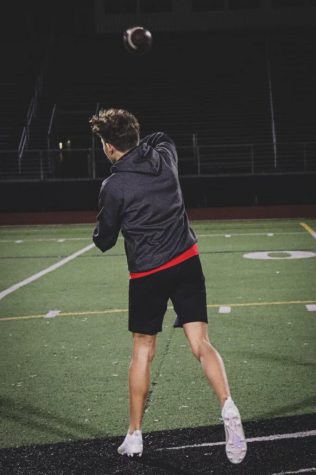 Caine Poythress '23, Staff Writer
Caine is a sophomore in the class of 2023. He is in his second year as a part of The Chieftain. He is the 4th of 4 siblings to go through The Chieftain....