Wakefield Action Media: 7th Edition (The Cut Fiber Cable Edition)
ASL interpreted video 🙂 loom.com
YouTube video (for closed captions) YouTube.com
WAKEFIELD! It is SPIRIT WEEK!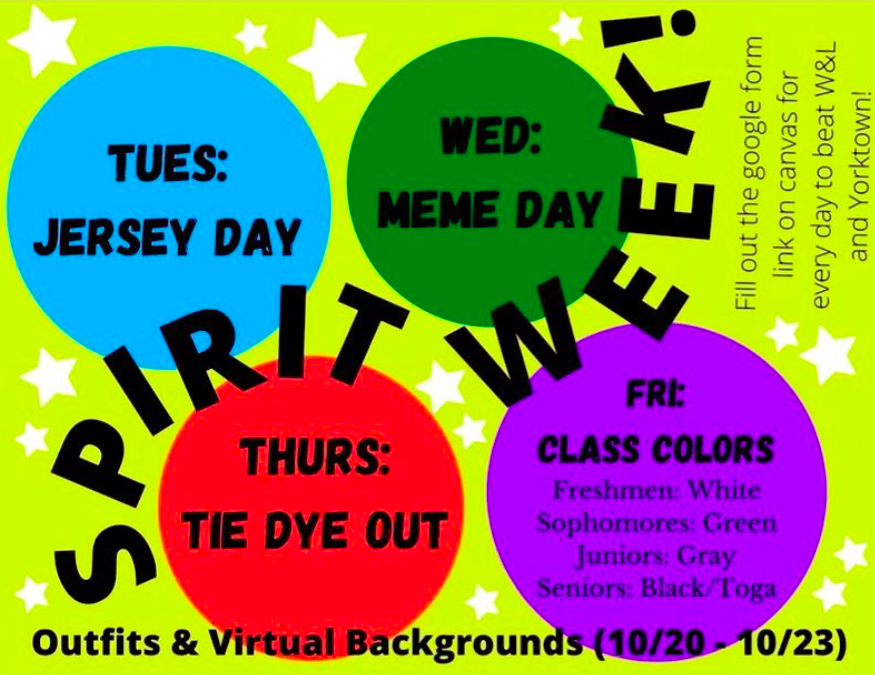 Spirit week is a CROSS COUNTY COMPETITION this year! We are competing against W-L and Yorktown. Make your spirit COUNT, Wakefield. Log in your participation here: tinyurl.com/WakeSpiritweek2020.
Friday, 10/23 is a FAMILY FEUD against W-L and Yorktown at 3:30pm on Microsoft Teams. Check Canvas announcements for more information.
ATHLETES!
You need a PHYSICAL on file (dated on/after May 1, 2020) with Ms. Kigin to continue Sports Conditioning starting next week. There are 4 ways to turn in a completed physical:
1. Mail it to Wakefield 1325 S. Dinwiddie St. Arlington, VA 22206, Attn: Becky Kigin
2. Email scanned forms to [email protected]
3. Register on the Wakefield Athletics website and upload the forms, wakefieldhs.rschoolteams.com
4. Make an in-person appointment using this Google Form.
There are 2 weeks left in the first quarter. Talk to your teachers and check your grades NOW. Don't wait! Enroll in Wakefield's Lunch Labs to get help with Math, Science, and writing every Tuesday – Friday from 10:50am-11:50am.
Leave a Comment