10 Creepy Movies and Shows to Get You in the Halloween Spirit
Halloween is one of the most popular holidays of the year, but because Covid-19, it doesn't seem likely that people will be able to participate in the usual Halloween traditions. Luckily, there are still plenty of other ways to get into the holiday spirit. Here are ten movies and shows, old and new, that will scare you senseless.
1. Stranger Things (Series)
If you've ever been on the internet, you've probably seen, or at least heard of, this show. Stranger Things is a show about kids living in the seemingly normal town of Derry, Indiana in 1983, until they discover new and terrifying things living there. It plays off of classic Stephen King-esque writing, with each episode as a chapter in the book of the show. It's available on Netflix and for purchase on DVD and Blu-Ray, and rated TV-14, so luckily your parents will be more inclined to let you watch it.
2. IT: Chapters 1 & 2 (2017 and 2019) (Movie)
Speaking of Stephen King, these movies based off the hit horror-novel, and it's later 90's TV adaptation, have all the scares you could want and more. These movies split the original book down the middle, showing Pennywise the dancing clown as he returns and attacks hundreds of children throughout the town of Derry, Maine every 27 years. Note that this movie is rated R, so you will have to ask your parents permission to watch it, but it will definitely be worth it. IT (pun intended) is available for free on Hulu and TBS/TNT on cable on demand.
3. Lovecraft Country (Series)
In a similar vein to Stranger Things, Lovecraft Country takes place in the past, in an area filled with all kinds of creatures and magic. This series follows Atticus as he returns to his family after the Vietnam War, and as he finds his father is missing. As they search for him, they meet a host of strange people (men), magic, and monsters. It's recently aired its season 1 finale, so you can binge watch the whole season on HBO and HBO Max. This show is rated TV-MA, with scenes of legitimate horror in it, and it's recommended that you get your parents permission first.
4. Friday the 13th (1980) (Movie)
A horror movie classic, this camping thriller is still one of the scariest movies four decades later. When a group of young counselors head to Crystal Lake to set up a summer camp, despite several rumors of murders around the area. See them as they get hunted and murdered by a mysterious figure, one by one. This movie is rated R, so be careful watching it, and you can rent it on Amazon Prime Video and cable on demand (and just about anywhere you rent movies).
5. The Nightmare Before Christmas (Movie)
Despite what the title might suggest, this is not a Christmas movie, but a Halloween one. This movie is about Jack Skellington, AKA the Pumpkin King, and his rule over Halloween town. Unfortunately, Halloween isn't as interesting as it used to be for Jack, until he finds out about the existence of another holiday to follow. This movie is rated PG, so you can probably watch it with some of your younger siblings, and you can watch it on Disney Plus and rent it from wherever it is that you rent from.
6. Coraline (Movie)
There are a surprising amount of creepy claymation movies (or at least well known ones), but Coraline brings it to another level. When Coraline Jones moves with her family into a new house, everything seems normal, until she finds a stuffed doll of herself, and a key to a mysterious small door in her house. This movie is scary enough for people of all ages to be scarred for life, though it is rated PG, so it's for those about 8 and up, if they can handle it at least. It's also available to watch on Hulu and Starz.
7. Scooby-Doo on Zombie Island (Movie)
There have been a lot of Scooby-Doo movies out there, and just about any of them would be good for this time of year. But, of the many, MANY Scooby-Doo movies, this has got to be the creepiest of them all. After the gang has been split up, they join back together to visit Moonscar Island, but things seem to be different than they appear when they find an undead pirate crew around the island. This movie is available on Netflix, and it's currently rated TV-Y7, so you can watch it with your younger siblings if you so choose. 
8. The Haunting Franchise (Series)
If you're in the mood for some ghost-style horror, then this is the series to watch. This franchise currently has two different shows involved, the first series being The Haunting of Hill House, and it's more recent series is The Haunting of Bly Manor. The Haunting of Hill House switches between two different stories, one with a group of kids growing up in the haunted house, and the other about them finally returning to the dreaded house. The Haunting of Bly Manor changes the setting and characters, but does keep some of the original actors. When a governess gets hired to take care of children in a country house, she soon starts to see something haunting the house. These shows are rated TV-MA, so be weary (but if you're still interested, you can watch it on Netflix).
9. The Shining (1980, not the 1997 remake)
Another horror-classic, The Shining is still considered to many people as the greatest horror movie of all time. When Jack Torrance gets access to a hotel for the whole winter season, he and his family decide to stay there, but when strange things start occurring, the hotel seems to have more than meets the eye. This movie is rated R, so get your parents permission before watching it, and it's available to rent wherever it is that you normally rent movies. 
10. Halloween (1978) (Movie)
These last movies are also the most relevant titles on the list. Halloween (as the name implies) takes place on Halloween night, when trick or treaters and little kids are abundant throughout the town, but when Michael Myers, the child that murdered his older sister, finally escapes from his mental institution 15 years later, the town of Haddonfield, Illinois gains a reputation that no one will soon forget. This horror-classic contains some of the greatest scares in horror to date, spawning countless sequels, remakes, and remakes of sequels (though some of these aren't as good as the original). This movie is rated R, so get your parents permission first, and you can watch it with cable (But who really still has that?) on AMC, or rent it from where you usually rent movies.
Leave a Comment
About the Contributor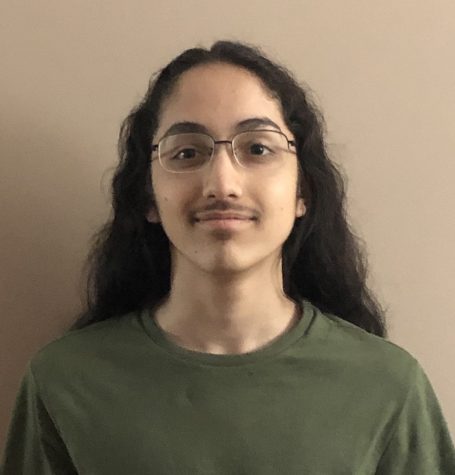 Adrian Ulm '23, Staff Writer
My name is Adrian Ulm, and I am a sophomore in the class of 2023. It is currently my first year on The Chieftain, and on here, I would like to entertain...